vDesk will be unavailable while it is being upgraded on Monday, December 21 from 5 am – 7 am. The update will result in cosmetic changes only, and absolutely no different actions are required on your part. When you next login to vDesk after the upgrade, you will simply see new login and landing screens. All of the same software choices as before will appear and will function in exactly the same way.
New login screen:


New landing page look: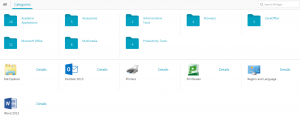 If you have any questions or concerns, please feel free to contact the Technology Service Desk at 253.879.8585 or servicedesk@pugetsound.edu.