As an academic blog, Sound Economics is our way, as students and faculty of economics, to explore economic ideas publicly, engage in debate, and exchange reactions to and analyses of current events. These forums have played an increasing role in economics in recent years. As further evidence of the expansion of economic discussions online, last week former Fed chair Ben Bernanke announced his new blog, hosted at the Brookings Institution. In his own words,
Now that I'm a civilian again, I can once more comment on economic and financial issues without my words being put under the microscope by Fed watchers. I look forward to doing that—periodically, when the spirit moves me—in this blog. I hope to educate, and I hope to learn something as well.
Ben's blog is newly added to our blogroll in the right-hand column of Sound Economics.
Outside the blogosphere, economists are increasingly exchanging ideas on other forms of social media. The blog Captain Economics recently analyzed the economics "twitosphere," to develop a model of the network of economists and economics-related Twitter accounts. Their goal was to use an algorithm to capture the 100 most influential economics-related Twitter users, starting with 5 users: Paul Krugman, Joseph Stiglitz, Robert Shiller, Justin Wolfers, and Nouriel Roubini. They then expanded the network, tracking common users of accounts, and repeated.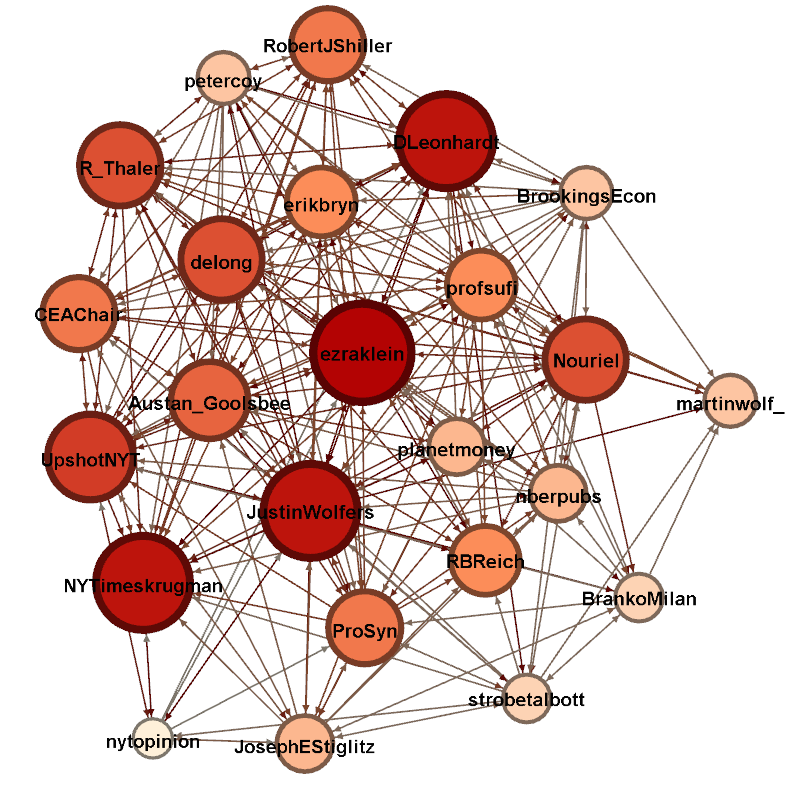 The ultimate result is a list of the 100 most influential econ Twitter accounts. Suffice it to say that Sound Economics is not (yet!) on this list, but the list should give you a good starting point if you want to keep up with economic conversations online!