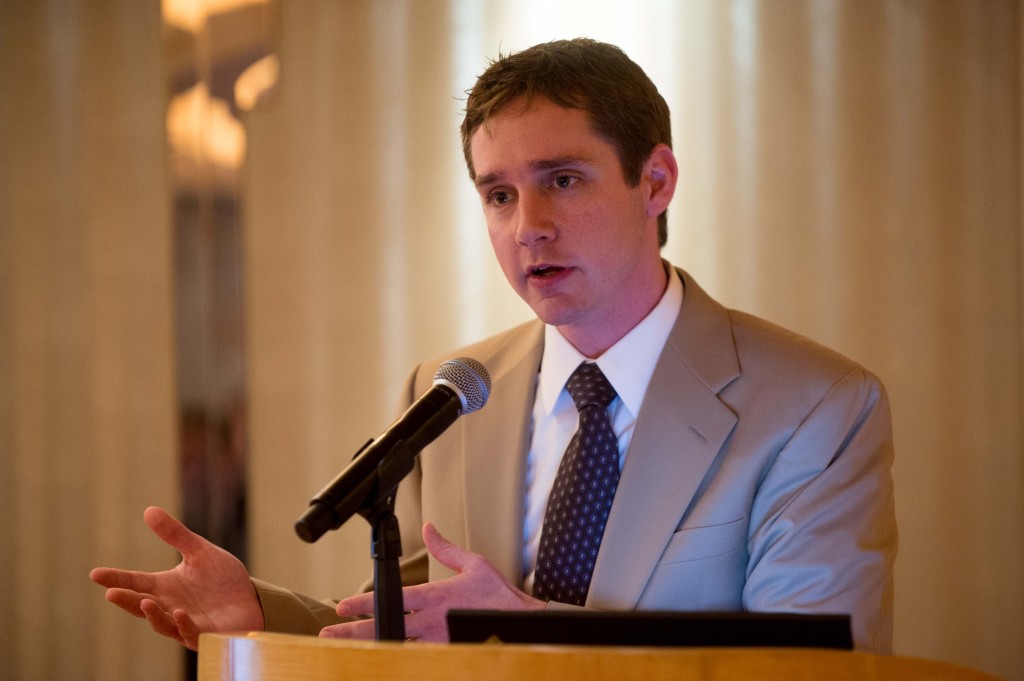 The Economics department this year welcomes two new members to the faculty. This week we have an exclusive interview with one of the two new Assistant Professors. Hired for his background in Macroeconomics, here is Peter Sullivan.
So where did you go to college?
"University of New Hampshire. I did all my degrees there."
And how many degrees was that?
"The Bachelor of Arts in Economics, the Master of Scienc- or Arts in Economics, so the B.A., M.A., and Ph D. The program I did for the Ph D. gets you a Master's degree after ten months."
What brought you to the northwest?
"I'm coming out for the outdoor activities and the sort of similar social climate to the Northeast, but a lot less snow. I'm looking forward to get my skating in and not having to shovel."
And have you spent much time in Seattle?
"No, I've only spent just a couple days in Seattle. Most recently, we went to a Sounder's game last week."
Besides the New Hampshire, where else have you lived?
"I lived primarily outside of Boston, and then I lived in Boston for a little while after undergrad. Lived downtown for about four years, but I spent three Augusts in Copenhagen. I was there first as a student for an econometrics program and then twice as a teacher. We did kind of a team teaching.. with heavily condensed days for the students. …There were different kinds of things, the kind of things I did were more project based. Actually it's that model we were talking about."
Oh, the VAR models?
"Yeah It's actually how you go about solving that. Actually those problem sets would be something if you want to do that, it'd be really good for you." (We had talked early that week about my summer research and econometric models.)
What courses are you teaching this year?
"This semester I'm teaching the Contemporary Economics class, so 170, and International Economics, which is Econ 271. And in the spring I'll be teaching the Contemporary Economics class and Macroeconomics."
What is a good book you've read recently?
"Umm, I haven't read a book recently. In the summer time I used to read two books at a time but I haven't read anything in awhile. Not since grad school, there's always something to read. Mostly now I read the Economist every night."
What are your hobbies or interests?
"I sail and work on cars. I sailed as student at UNH and as a grad student I was a sailing coach.. so I could just go out and sail anytime. So I definitely need go out and find the Puget Sound sailing team and where they sail. My brother and I actually fixed up a high end mannual recently and I drove it out here with me."
 Are you working on any car or boats right now?
"Actually, I have a 16 foot New England dory I brought out across country, that I was given as a gift for graduation. It's like a work man style boat with an open flat bottom and rounded sides."
Do you have a name for it yet?
"No, I haven't gotten it in the water yet. I need to get it registered. At home, we don't have to register sail boats like that, as long as you don't put a motor on them." 
What kind of music do you like?
"My two favorite bands are the Mighty Mighty Bosstones and the Pearl Jam. They're a Ska band, it's like a fusion between rock and Jazz. Like a rock band, with a horn section."
What is your favorite part about Puget Sound so far?
"Mostly I really like the people out here. They're very interested in what you're doing and don't only do work."
Join the Economics Department in welcoming Peter to the University of Puget Sound community. Check in again soon to meet another new Assistant Professor, Lea Fortmann!