If you buy your own food, you may have noticed in the past couple years that food prices have been rising faster than the prices of other goods. Today, we're going to pull apart an interview on food inflation into economic terms, that we can then turn back into real world discussion. If you're not quite sure what inflation is yet, here's a link to a previous post on inflation.
Here's the interview. It's from Marketplace, with a guy named Matthew Boesler from Business Insider. In total, it's about 5 minutes long.
Food inflation, or, why bacon is a good investment
The first thing that jumps out at me is the mention of a supply side shock. Supply and demand are the hallmarks of economics, and are used to describe changes in the equilibrium price and quantity consumed in a market. Below, I drew a picture that generally shows the effect on prices when there is a negative supply shock in a market. Keep in mind that the supply curve, denoted here with S, represents the supply of all food from beef to peanut butter. Disclaimer: The shape of these do not reflect any sort of specific information about the food market, except their positive and negative slopes.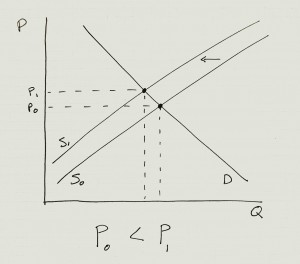 This graph says two things. First, there was a market with a equilibrium price PO. Then, there was a negative supply shock due to poor weather, which shifted the supply curve back and the new higher equilibrium price was P1. There were a couple other supply shocks that didn't make it into this radio show, like the US hog virus and the fungus that is wiping out coffee plants in South America. Some of these supply shocks are here to stay, the ones that he mentions as "structural". Others are based on speculation and are only as real as people believe them to be.
So what do they mean by "pass through" prices to consumers? Are producers just greedy and want to keep a high profit for themselves? Not exactly. Food producers are experiencing higher costs and thus need to raise their prices, if they want to stay in business that is. If beef farms have to start paying more for wheat to feed their cattle, that increase in input prices is "passed through" to consumers. You pay for what you get.
That being said, maybe producers realize that they can't raise their prices. We just came out of a recession, and people don't want to pay more for their food. Some people can't pay more. So how do producers stay in business? Well, they can shrink their profit margin, which probably isn't that big to start with in a competitive market, or they can cut back in other sectors of their production cost. In other words, they can cut corners on their production methods. It comes down to choosing the lesser evil, either higher prices or lower quality goods. The fact that we are experiencing higher prices makes me inclined to think that cutting corners isn't the case here, but it very well could be.
In case you can't get enough on this, here's another article about where food inflation is going and how it can affect America's economy.