Janet Yellen—recently nominated to be the next Chairperson the Federal Reserve—is certainly breaking new ground. If her nomination is confirmed by the senate, she will be the first woman to lead the institution in its history. Her likely rise is especially significant in the field of central banking. 
According to CNN
,12 of the world's 160 central banks, only about 6%, had female governors last year.
But although her gender shatters the historical norm of Fed chairs, she also carries on a curious pattern in that office—through her stature. It seems that our head central bankers keep getting smaller and smaller. Paul Volcker measured 6'7″, Alan Greenspan 5'11"; Ben Bernanke came in at 5'8", and Janet Yellen is 5' even. I found the infographic below quite amusing. And it does raise the very very important question: how long until our central bank's leadership disappears all together?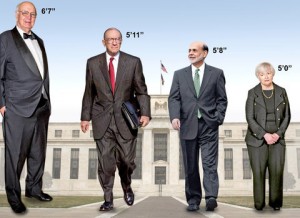 sources:
http://www.marketplace.org/topics/life/final-note/federal-reserve-chairs-are-getting-shorter-and-shorter