Beverly Naidus (artist) and Christopher Schell (scientist)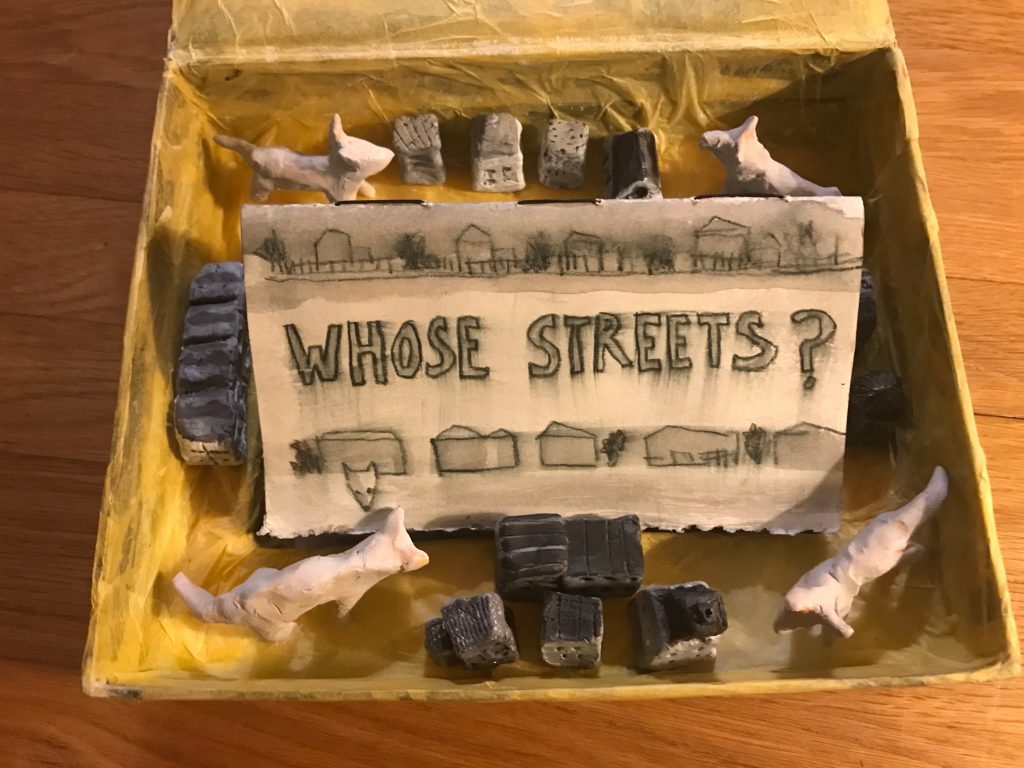 Beverly Naidus's Artist Statement: Dr. Christopher Schell's research on coyote behavior and its relationship to gentrification and racial justice inspired me immediately. My creative process was interrupted by many factors related to the pandemic, but working on this project grounded me throughout. I changed forms several times during the gestation process; at first, playing with a folded map with "red lines" as well as an accordion book with small doors, blocked or fenced off. Ultimately I decided to create a book that appears to break out of the box, along with sculptural props to intrigue the eyes of viewers. I chose to make portraits of coyotes as "mug shots" to emphasize the bizarre attitude many folks have towards them, seeing them as criminals. Dr. Schell's research offers us a view of urban coyotes as teachers of adaptability & resilience. Our ecosystem and communities would benefit from a shift in our attitudes to this clever carnivore so that we can more skillfully coexist. Habits of prejudice & systemic discrimination have influenced our behavior towards fellow humans as well. Structural racism & ecocide walk hand in hand. Collective action is needed to overcome them.
Size: The box is 9.75″ wide x 8″ deep x3.5″ tall. The book inside is 4″x7″ and 20 pages long.
Materials: Arches watercolor paper, Noodler's Ink, Derwent Inktense pencils, tracing paper, clay, acrylic paint, acrylic matte medium, and waxed silk chord.
Book Structure: Box, sculptural elements, and hand-bound booklet.
Production/Printing Method: Hand drawing, digital collage, sculpting with clay, painting with acrylic, papering with acrylic matte medium.
Year Created: 2020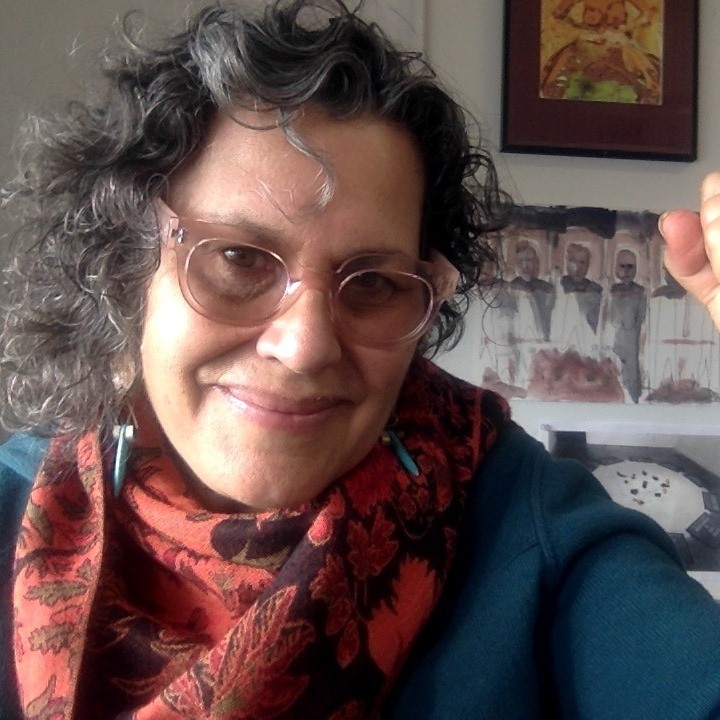 Beverly Naidus lives in north Tacoma (near 6th Ave) where raccoons, squirrels, crows, & hummingbirds are plentiful, but she has never seen a coyote nearby. Her artwork has focused on healing trauma, both collective and personal. She is an eco-artist whose installation work is often interactive, inviting the audience to share their own stories about the topic being explored (climate and racial justice are often themes). She has collaborated with 350 Tacoma for two years, facilitating workshops to reimagine the Port of Tacoma free of fossil fuels and healed from toxins.
Beverly Naidus: e-mail: bnaidus@uw.edu; website: http://www.beverlynaidus.net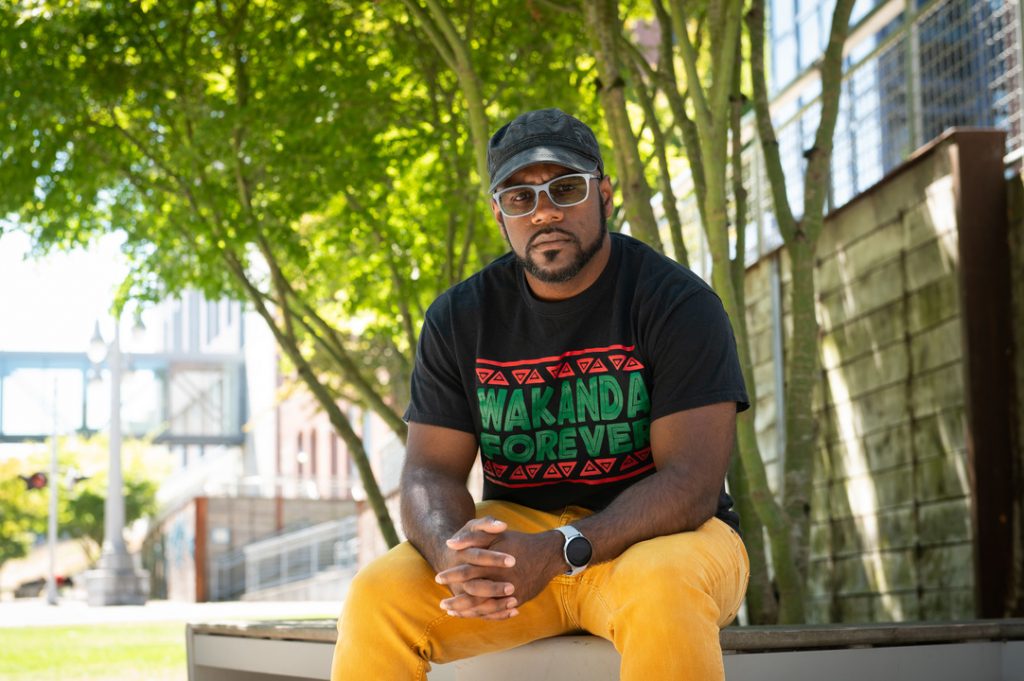 Dr. Chris Schell is an urban ecologist interested in socio-eco-evo dynamics, and how they contribute to patterns of human-carnivore conflict in urban environments. Chris received his B.A. in Psychology from Columbia University (2009) and his masters and PhD in Evolutionary Biology from the University of Chicago (2015). As an Assistant Professor at the University of Washington, Tacoma, Chris helped launch the Grit City Carnivore Project, a research collaboration among the Point Defiance Zoo & Aquarium and Metro Parks Tacoma to mitigate human-carnivore conflict and promote coexistence. He is now an Assistant Professor at UC-Berkeley in the Department of Environmental Science, Policy, and Management.
Dr. Christopher Schell: e-mail: cjschell@berkeley.edu; website: https://ourenvironment.berkeley.edu/users/1757114
About his research, Dr. Schell writes, "My research focuses on how urban carnivore behavior, physiology, and genomics are shaped by living in cities. In addition, my work integrates principles from the natural sciences with urban studies and critical race theory to address how racial and economic oppression affects urban ecosystems. In doing so, my lab spotlights the need to promote justice, equity, diversity, and inclusion (JEDI) in conservation and environmentalist movements, as well as amplify environmental equity and civil rights in addressing the climate crisis."