My Hair Loss Due to Chemotherapy
Artist: MalPina Chan
MalPina Chan's Artist Statement: The context of my work is woven together from my identity as an Asian American, a woman, and a mother. Through my work, I question, investigate and generate dialogue as I explore immigration, race, identity, diversity, inclusion, gender, and equality in the context of history, our memories, and today.  My interest in cultural inheritance, cultural shifts, and societal pressures on personal culture propel my work.
Critical to my practice is extensive research to inform the context and content of my work. In my current artist book series, I focus on a conceptual approach to challenge the preconceived notion of the "book". Recontextualized materials, objects, and text encourage "reading the book" from a new perspective.
Science of Medicine: I grew up in a bilingual household where my family merged cultures from the far east and the west. This brought science together with tradition and superstition. This practice led to various schools of thought and approaches to problem-solving.
I refer to 2020 as the LOST year. I decided to share the story of my cancer journey in a visual context. Cancer has touched many of our lives. Our friends and families have experienced some form of the disease.
Seven months of chemotherapy and sheltering in place due to the Covid-19 pandemic brought challenges at multiple levels. A vulnerable immune system and a raging pandemic brought isolation and the inability to work in the studio. Fatigue, nausea, and foggy chemo-brain together with other side effects from chemo was part of my daily life.
As I began my chemotherapy treatment, my oncologist informed me that I would be losing my hair. Even though I knew this would occur, it was still a shock when it actually happened. I had to shave my head. It was traumatic. I decided to save my hair.
I am grateful for my team of warrior healers who saved my life. Thank you to the Art & Science team for their work on this exhibit. ART is a powerful vehicle leading to healing and the road recovery physically and mentally.
What are Hair Receivers? Dating from Victorian times through the early 1950s, they were designed to hold hair that was removed from hairbrushes after brushing, and they resemble vanity jars or powder jars, but with the distinctive feature of having a finger sized opening hole in the center of the lid. The comb would be run through the bristles of the hairbrush and the resultant hair accumulation would be coiled around a finger and then inserted into the opening of the hair receiver.
The uses of the hair was varied, but most frequently it was used in the creation of RATTS (aka rats) These were sheer hair nets that were stuffed full of the collected hair and then sewn shut. The ladies' hairstyles of that time were fashionable buns and other "big hair" arrangements. So ratts provided a "stuffing" to enhance these hairstyles!
In addition to this use for the hair kept in hair receivers, ladies also used the collected hair for a variety of other things, including as stuffing in pin cushions, for which the oiled and scented hair of that time was well suited, as it lubricated the pins, making them easier to use. Small other cushions and pillows were also frequently stuffed with hair instead of feathers.
Hair receivers are made from a variety of materials including glass, metal, wood and ceramics, with the most notable ones usually being made from porcelain. They were produced in a range of styles, some flat, some footed, some square, and most round in shape."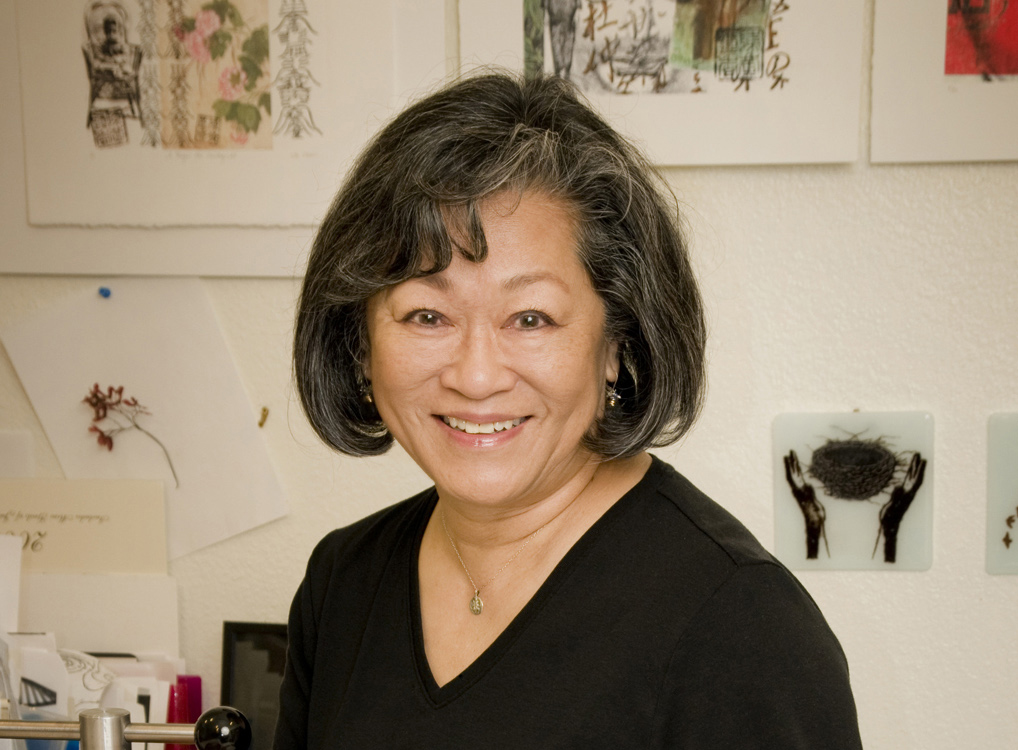 MalPina Chan was born in California and now lives and works near Seattle. She received a BFA from Earlham College, Richmond, Indiana. The following have enriched her studio practice: the Artist Trust EDGE program, a James & Janie Washington Artist-in-Residency, an Artist Trust Grant to study at the Pilchuck Glass School, and a SOLA Award.
MalPina is a storyteller making work to ignite a dialogue about the immigrant experience, race and identity, memory and history, women's rights, and global beliefs. These themes and issues are at the forefront of our current discourse.
MalPina's primary method is mixed media and collage incorporated into prints, artist books, and glassworks. She explores conceptual approaches to creating her artwork.
MalPina Chan: e-mail: malpina@yahoo.com; website: http://malpinachan.com