Mari Eckstein-Gower (artist) and Carri LeRoy (scientist)
Mari Eckstein-Gower's Artist Statement: My artist book is about Sitka willow trees and the ecological re-start on Mt. St. Helens. Because of pandemic travel restrictions, I was forced to rely entirely on photo sources and written documents instead of visiting the study area in person. Not my ideal way of working. I read books about volcanos, stream ecology, Passenger Pigeons (the other subject I considered for an artist book), the Columbia River ecology, the history of Mt. St. Helens, and eyewitness accounts of the eruption
I started to see connections everywhere. I realized that my story is larger than one plant. It's about the mountain and how she's building new ecosystems upon the scar tissue of the 1980 eruption. But my story is also about connections, resiliency, fresh starts and healing.
I structured my book in two sections — before (eruption) & after (colonization of the pumice plain). For my paintings, I didn't want anything literal. The 1980 eruption is the most documented volcanic event in the world. There are hundreds of brilliant photos from every angle imaginable. I felt no need to duplicate those images. I've focused instead on paintings that convey the movement and structure of the events unfolding.
Size: 11″ x 7″ x 2″ closed; 11″ x 28″ open
Structure: Co-joined drum-leaf binding
Materials: Superfine cover paper, handmade paper with botanical inclusions, copper, book cloth and book board.
Production/Printing Method: Inkjet prints of original drawings and text
Edition: 10
Year Created: 2020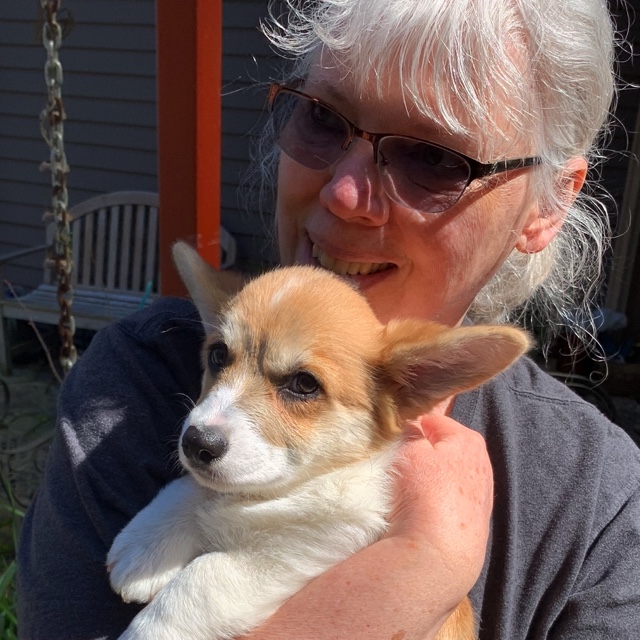 Mari Eckstein Gower earned her BA in art & humanities from Scripps College and her MA from Claremont Graduate University. She studied printmaking in Montreal. She currently specializes in artist books which are inspired by her interests in history, archaeology, mythology and science. Her artist books are in university special collections as well as private and museum collections. She lives and works in Redmond, WA, where she often collaborates with her daughter, Kat, to develop kinetic structures that will enhance the meaning of her books.
Mari Eckstein Gower: e-mail: mari.gower@comcast.net; website: http://mariecksteingower.com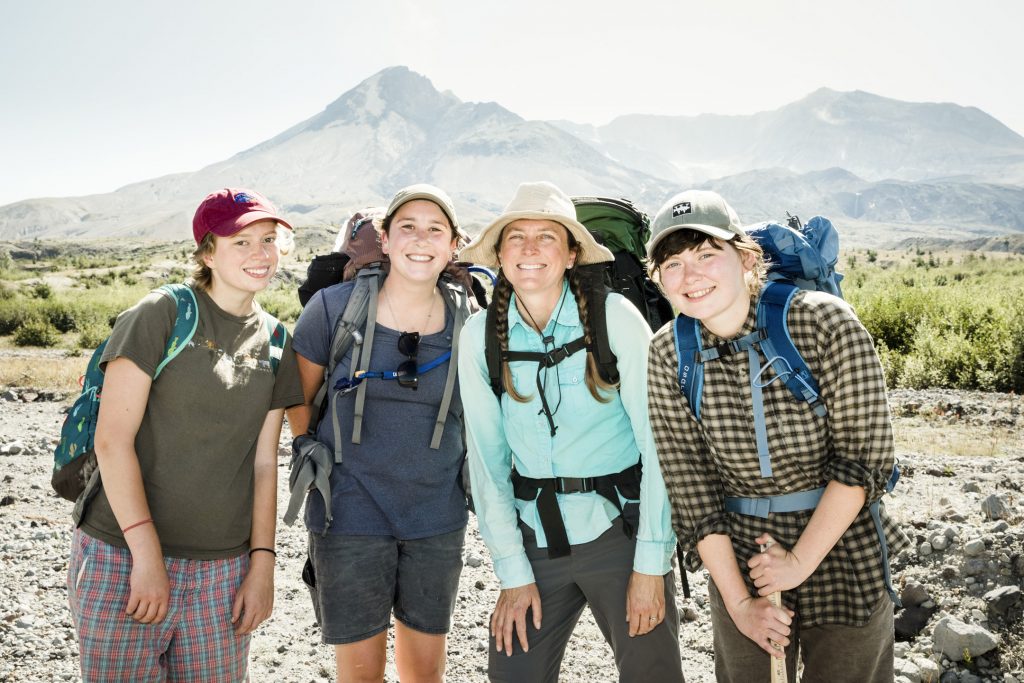 Carri LeRoy, Ph.D. has been a member of the faculty at The Evergreen State College since 2006. She is a freshwater ecologist and her research focuses on how riparian forests interact with streams and provide energy through leaf litterfall. The photo shows Dr. LeRoy (second from the right) with her students at Mt. St. Helens.
Carri LeRoy, Ph.D.: e-mail: leroyc@evergreen.edu; website: http://sites.evergreen.edu/carrileroy
About her research at Mt. St. Helens as it relates to Connections: The Willow and the Mountain, Carri LeRoy wrote, "Following the 1980 eruption of Mount St. Helens, the entire North side of the mountain was obliterated. As the landscape stabilized, five new small river systems formed. This is the perfect location to watch how rivers evolve, from a clean slate! The new watersheds at Mount St. Helens are showing us just how rapidly ecosystems can develop following massive disturbances.
The early colonizing plants, lupine, alder, and willow have influenced the other plants and animals that come later. Lupine and alder add nitrogen to the barren ash and pumice to encourage soil development. Willow establishes along stream banks and provides shade for aquatic organisms. Most plants have both male and female parts in each flower, but willows have separate male and female plants. It turns out, female willows colonize closer to streams and their leaf litter inputs last longer and decompose slower.
There are so many questions to ask about how ecosystems are developing at Mount St. Helens, we are only just getting started!
Photo information for the above photo of Dr. LeRoy and her students: Part of the 2019 field crew at Mount St. Helens. The Evergreen State College students and faculty, from left: Lily Messinger, Angie Froedin-Morgensen, Dr. Carri LeRoy, and Victoria Cowan. Photo by Shauna Bittle.