Artist: Nicole Pietrantoni
Nicole Pietrantoni's artist statement about Burgeon: My research and artistic work explores the complex relationship between human beings and nature through prints, installations, and artists' books. I am interested in interrogating the tradition of landscape photography and the tension between beautiful, picturesque images of nature and the near-constant threat of environmental change. With a specific interest in photography's historic relationship to representation, my work draws attention to our active role in constructing and idealizing landscape.
Using the print and book in experimental formats, my artwork reconsiders how we read and access information, as well as how we reproduce, represent, and disseminate images and text. Rather than a fixed site or single image, the fragmented columns, pages, and text engage nature as an accumulation of processes, perceptions, and narratives – a dynamic and shifting site open for perpetual interpretation.
By referencing the encyclopedic, the 19th-century panorama, and the Romantic painting tradition, my large-scale installation invokes older modes of image-based representation. These works highlight the inaptness of these tropes in an increasingly fast-paced world.
In Burgeon, I worked with photography from nature walks in urban spaces, exploring how our definition of what is "nature" and "natural" are ever-expanding.
Size: Installation dimensions: 28″ x 64″ x 4″ Each of 15 book is 3″ x 3″ square
Materials: Inkjet on Awagami Inbe Thick Kozo paper, acrylic paint.
Book Structure: Accordion
Production/Printing Method: Inkjet print using an Epson 9800
Edition: 2
Year Created: 2020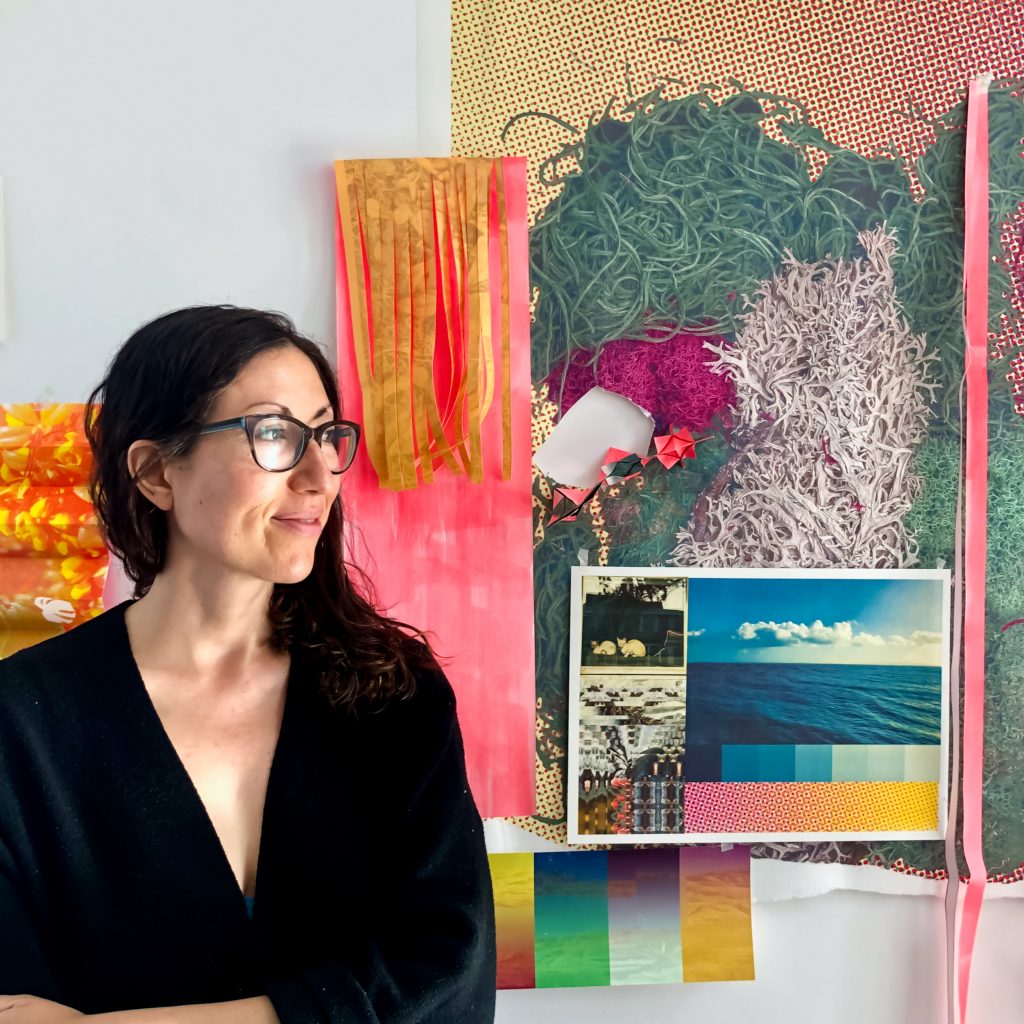 Nicole Pietrantoni is an artist who lives in works in Walla Walla, Washington. Her artwork explores the complex relationship between human beings and nature via installations, works on paper, and artists' books. She is the recipient of numerous awards and residencies including a Fulbright to Iceland, an Artist Trust Fellowship, the Manifest Prize, and a Graves Award for Excellence in Humanities Teaching. Nicole received her MFA and MA in Printmaking from the University of Iowa. She is currently an Associate Professor of Art at Whitman College.
Contact Information for Nicole Pietrantoni: e-mail: nicole.pietrantoni@gmail.com; Website: http://www.nicole-pietrantoni.com