Lou Cabeen (artist) and Caren Crandell (scientist)
Caren Crandell, a Wetland and Plant Ecologist explains her work with students to learn about environmental, cultural and anthropogenic changes in Pacific Northwest coastal marshes. Specifically, she discusses the Union Bay Natural Area, a part of the University of Washington Campus in Seattle.
Lou Cabeen's Artist Statement: For this exhibition, I focused on the Union Bay Natural Area (UBNA), where I walk almost daily. I titled my project The Making of A Meadow, a reference to the poem La Fabrique du pre' by Francis Ponge which sings the praises of an extremely ordinary field, the kind of place overlooked by many. UBNA also has been described as ordinary. However, it was originally a lake bed. When the lake level was lowered, it was a city dump for 40 years. Yet now it is an area for ecological restoration, research, and teaching. This ordinary field becomes extraordinary when its history is understood. My meetings in late summer with wetland ecologist Caren Crandell introduced me to the practices that brought about this transformation and deepened my ability to bear witness to the labor of tending that such transformation requires. The communities of more than human life that flourish here now are signposts of the possible.
Size: 1 box 13″ tall, 9.5″ wide and 4.75″ deep; 3 herbarium folders each 11.75″ tall and 8.5″ wide, with various depths; 20 herbarium sheets, each sheet is 11.5″ tall and 8.25″ wide; 1 accordion book 5″ tall, 7″ wide and 2 accordion books 4.5″ tall and 5″ wide; and 1 codex 2.5″ tall and 5″ wide.
Materials: herbarium sheets, pressed botanicals, paper, graphite, and thread.
Book Structures: The book structures include baseball stitch accordion, baseball stitch meander accordion, baseball stitch codex, and unbound collage pages.
Production/printing Process: drawing, handwriting, digital printing and stitching.
Edition: Unique
Year Created: 2020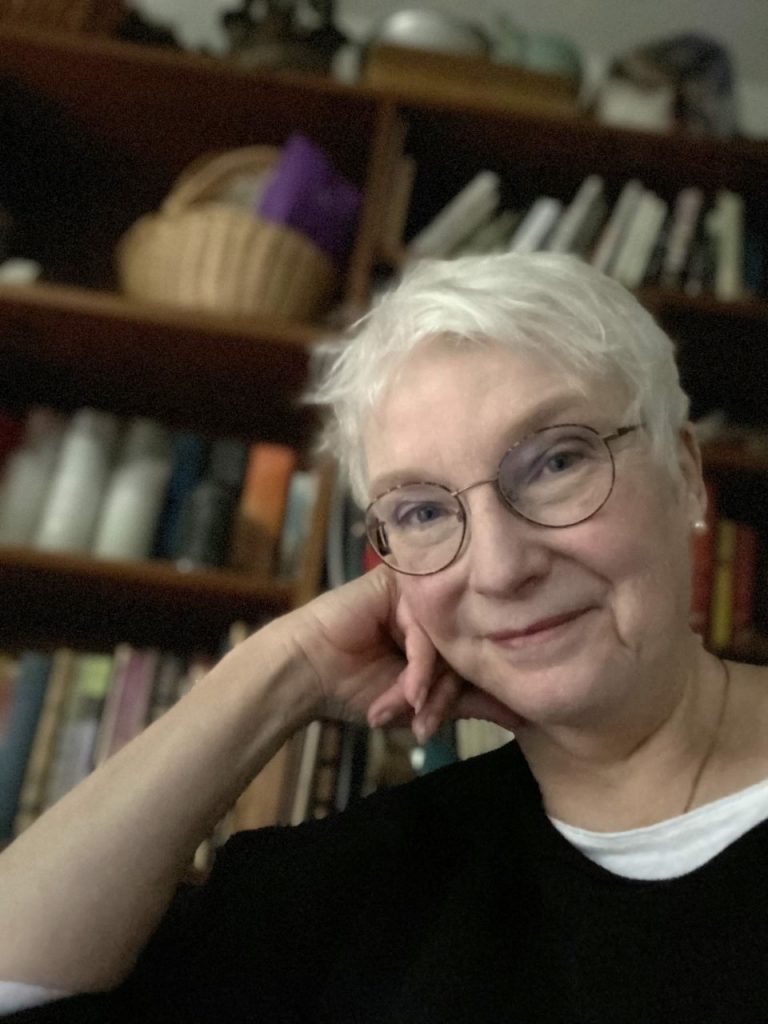 Lou Cabeen is a Seattle artist who works with a range of media including maps, textiles, stitching, and collage. For the past several years the themes of her work have centered on climate change. Her recent works seek to understand and undo our self-destructive alienation from the natural world. Making artist books allows her to fully explore the power of tactile experience in communicating her ideas. She uses cloth, paper, and stitching in order to emphasize the tactile nature of private experience and to reveal the textures of subjective thought.
Contact Lou Cabeen through her website: http://loucabeenart.com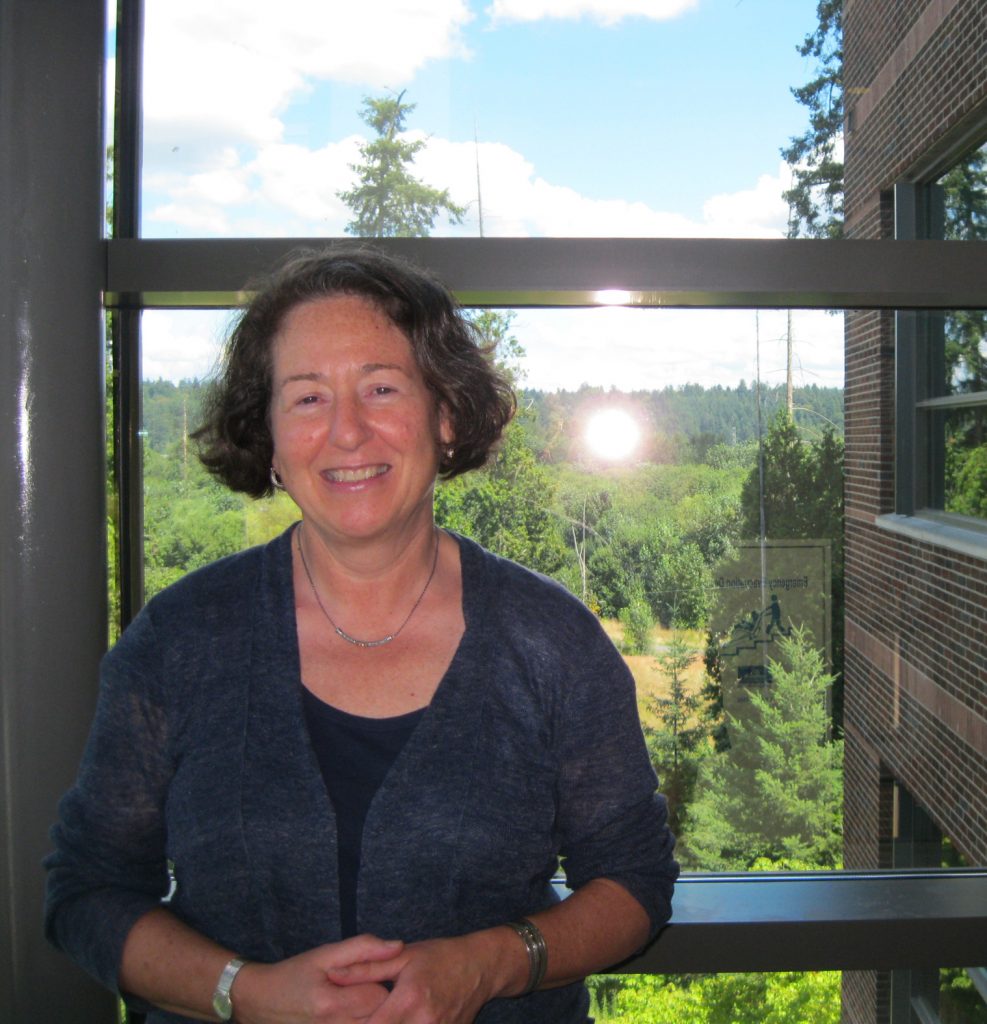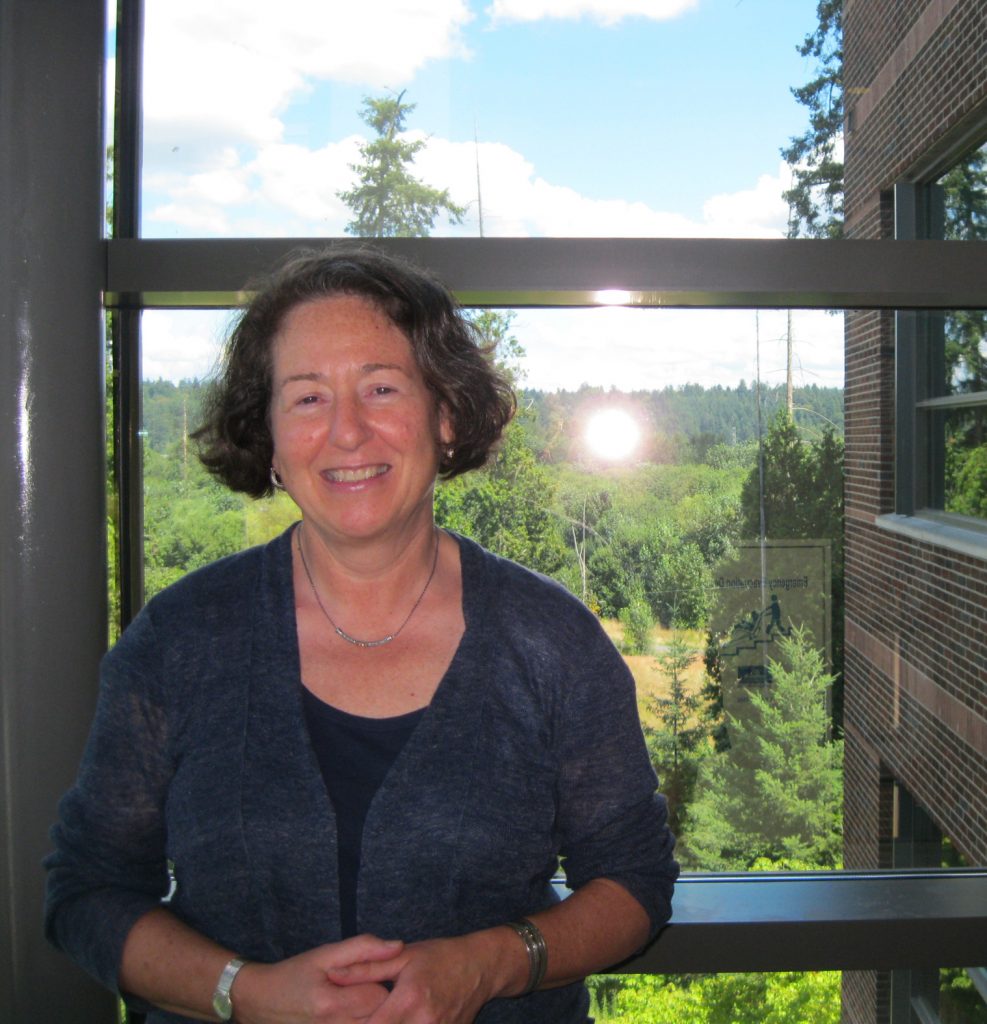 Dr. Caren Crandell is a wetland ecologist and plant ecologist and completed her Ph.D. at the University of Washington under Prof. Kern Ewing. She has taught courses in Pacific NW ecology, wetland ecology, restoration ecology, native plants, and Native American material culture at UW Bothell (School of Interdisciplinary Arts & Sciences) and Seattle (School of Environmental & Forest Sciences). She currently serves as an Aquatic Biologist for a Federal agency and teaches wetland restoration for the University of Idaho College of Natural Resources.
E-mail Dr. Caren Crandell at carenjc@uw.edu
About her research, Dr. Crandell writes: "My most recent work has focused on the response of a coastal marsh plant to environmental factors (e.g., salinity), cultural use (harvesting for use in basketry), and anthropogenic change (landscape change caused by humans). This work draws on the interdisciplinary fields of environmental history and cultural geography of plants (i.e., where, when, and why certain plants are gathered by Native Americans in the Pacific Northwest). It informs ecological restoration efforts in PNW coastal marshes, including those that aim to provide culturally important plants for local tribes; helps determine sustainable harvest practices; and provides justification for acknowledging Native American gathering grounds functionally, even if they change over time, rather than strictly geographically, which has been the legal standard."