Anne Greenwood-Rioseco and Daniela del Mar (artists) and Lalita Calabria (scientist)
Anne Greenwood-Rioseco's and Daniela del Mar's Artist Statement: Enmeshed explores the mutualism inherent to biological relationships and the social and cultural shifts which are needed in order to evolve and transform. Looking to the natural world for models, we can learn from one of the oldest living organisms on Earth-the lichen. A composite being made of three distinct species, the lichen is resilient precisely because of their relationship to one another. Each of the species, while autonomous in its characteristics and needs, is dependent on another for survival. What emerges is a different organism altogether, living in sustainable balance made possible through mutual aid. Using the expression of the book form, the artists interpret transformative symbiosis across genre, language, design, and discipline through multimodal collaboration. They believe that there is no personal healing without collective liberation.
Size: 9.5″ x 12.5″ x .75″ closed, 43″ x 12.5″ x 5″ open
Materials: 100% recycled Gmund Heidi Soft Kraft 122# paper, Dubletta covered end boards, silk ribbon.
Book Structure: Hardcover flag book.
Production/Printing Method: Letterpress printed on a Canuck Proof Press with hand-colored illustrations, the silk ribbon enclosure is hand-dyed with Letharia vulpina, Wolf Lichen.
First Edition: 5
Year Created: 2020-21
Broadsides: Suites of 4 broadsides are also available.
Additional Contributors: All illustrations are by Leanne Smith-Lucero, artist, illustrator, mother, and member of the Confederated Tribes of Warm Springs. The poem "Rhizinate" was written for this book by Eduardo Gabrieloff, Latinx poet and father living in Colorado. The project was funded in part by a 2020 Career Opportunity Grant and Ford Family Foundation funds.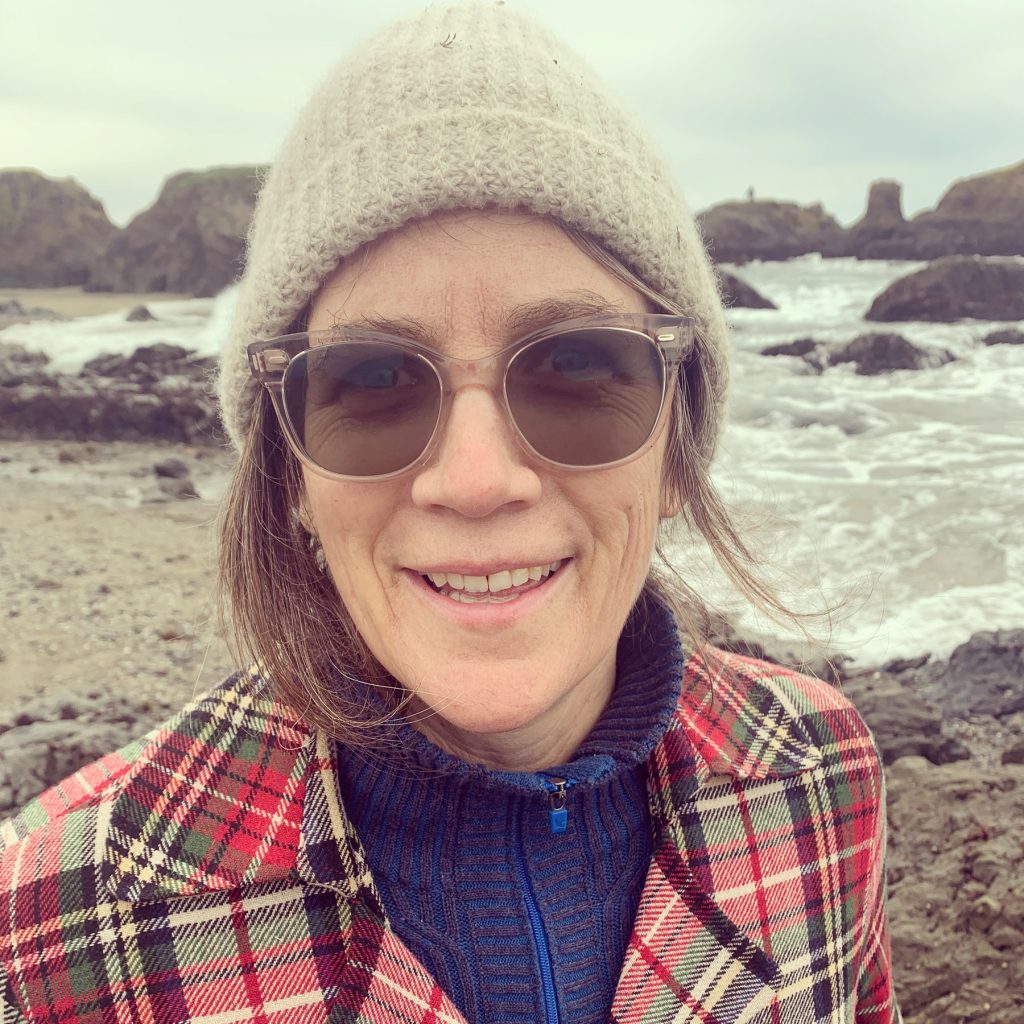 Anne Greenwood-Rioseco is a multidisciplinary artist, horticulturist, educator, and community arts facilitator whose work navigates the edges of place, history, and transformation. Her artistic practice weaves together collaborative and social practices alongside installation, book arts, and textile work.
Anne Greenwood-Rioseco: e-mail: annegreenwood.net@gmail.com; website: https://annegreenwood.net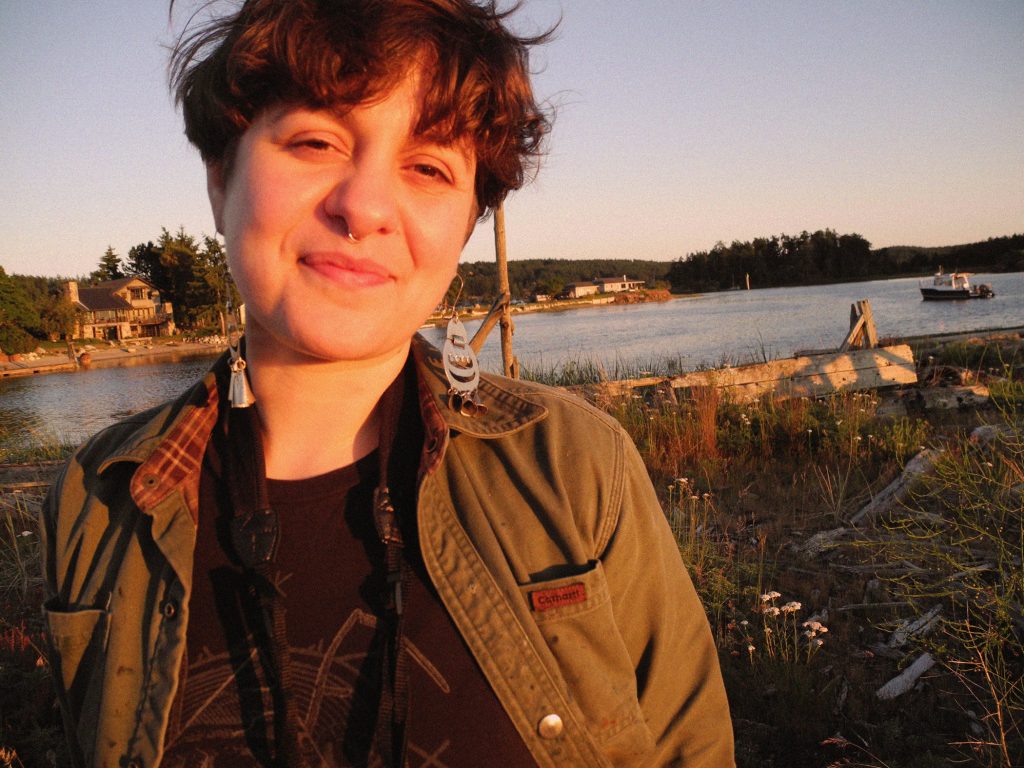 Daniela is a multidisciplinary artist, activist, and educator whose work blends traditional print processes with bilingual poetry + social practice. They center queer and marginal spaces to facilitate connection beyond borders in text-based work, collaborative practices, and book arts.
Raised in a mixed, multi-gen immigrant family in Nashville, their letterpress printed work hangs on the edges of cultural, poetic, and concrete type forms. In 2013, they co-founded Letra Chueca Press, the only Latinx-owned print shop, and the Poetry Salon Broadside Project at Reed College, in Portland, Oregon.
Daniela del Mar: e-mail: delmarprints@gmail.com; website: https://danieladelmar.com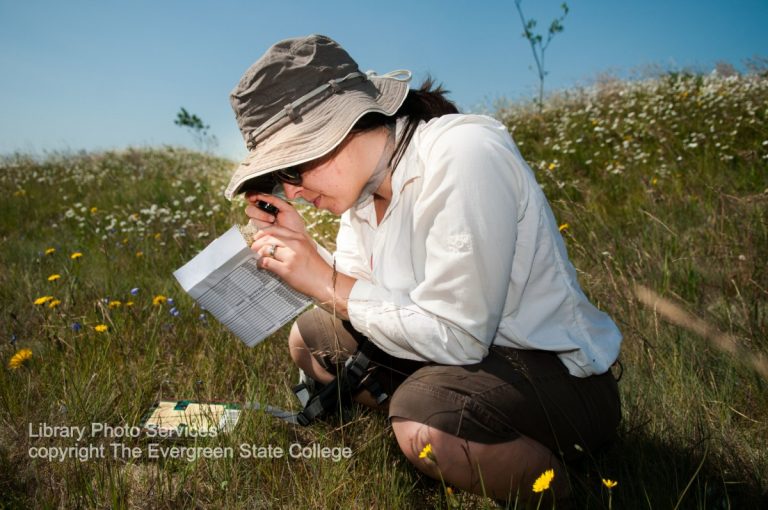 Dr. Calabria is a Member of the Faculty at The Evergreen State College in Olympia, Washington where she teaches a variety of interdisciplinary team and solo-taught programs focusing on botany, taxonomy, field ecology, herbarium studies, and plant chemistry. Dr. Calabria enjoys spending time in the field and the lab with undergraduate students studying the natural history and biodiversity of lichens and bryophytes.
Lalita Calabria, Ph.D.,: e-mail: calabril@evergreen.edu; website: https://sites.evergreen.edu/lalitacalabria
About her research, as it relates to Enmeshed, Dr. Calabria writes, "My research focuses on biodiversity and conservation of lichens. These often overlooked components of ecosystems serve as important indicators of air quality and ecosystem change because they absorb water, nutrients, and pollutants directly from the air. Lichens also serve as an excellent model for exploring the nature of symbiosis. By studying the intertwined life histories of the lichen partners- the fungus and photosynthetic alga and/or cyanobacterium- we can begin to see lichens not only as the sum of individual parts but also as dynamic ecosystems- a network of interdependent relationships."