Suze Woolf (artist) and Diana Six (scientist)
About Bark Beetle Book Vol. XXXIV: Resource Competition, artist Suze Woolf writes, Both bark beetles and humans like to make their homes out of trees, so in some sense, we are competing for the same resource. This book interpolates a beetle gallery-covered branch into a piece of 1×4 dimensional lumber.
Size: 5″H x 12.75″W x 4″D.
Materials: Branch with galleries; blue-stain dimensional lumber, laser-cut Baltic birch plywood, with laser print transfers, Kevlar thread.
Book Structure: Modified Coptic binding.
Production/Printing Method: Laser print transfers from photographs by the artist.
Edition: Unique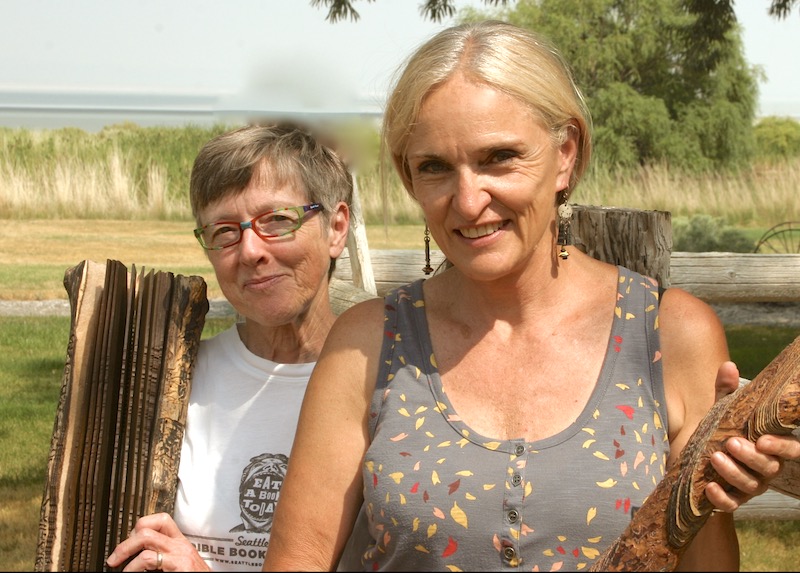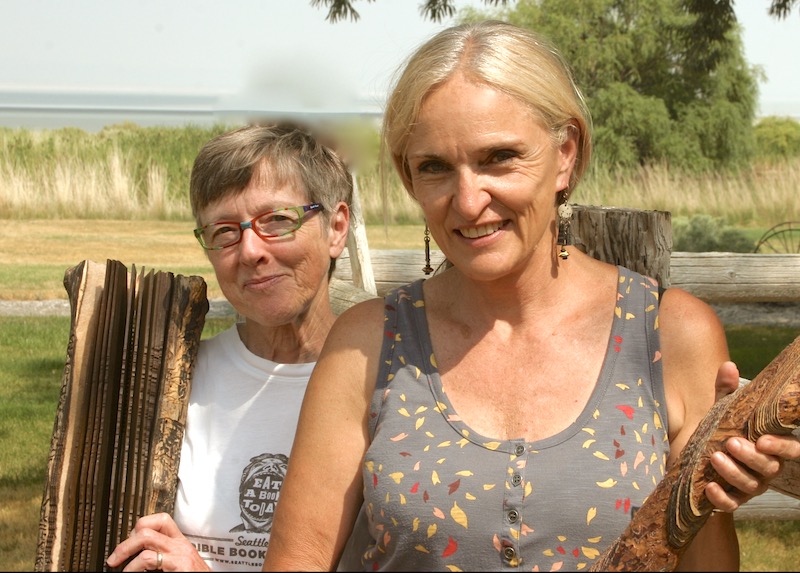 Suze Woolf (on the left), a Seattle-based artist, studied ceramics and printmaking at the University of Washington and worked in computer graphics for many years. Inspired by nature and science, she explores media from painting, paper-casting, artist books, and pyrography to installation – sometimes all together. She has been awarded numerous artist residencies, mentored other artists, curated exhibitions, and her work has been shown in galleries and museums across the western United States.
Suze Woolf: e-mail: woolf_s@msn.com; website: http://www.suzewoolf-fineart.com; blog: https://suzeart.wordpress.com/
Diana Six (on the right) is an ecologist and entomologist that conducts research on the interactions between microbes, insects and forests. Her main study system is that of bark beetles and their mutualistic fungi and how the partnership between the two has evolved into one of the most powerful forces influencing conifer forests. Her work now extends to how climate change is driving bigger bark beetle outbreaks and how mega-outbreaks are affecting the genetic diversity of the forest trees that survive. Her research sites can be found in western North America, Germany, and South Africa. She is an intense lover of nature and pursuer of fish by way of a fly rod.
Diana Six: e-mail: diana.six@umontana.edu
About her research at the University of Montana, Professor Six writes: "My research looks at the ecology and evolution of interactions between insects and microbes and how those interactions affect the forest ecosystem. In particular, I study fungi that are carried from tree to tree by bark beetles. These fungi are crucial for beetle survival. They gather and deliver nutrients to the larvae as they feed and provide sterols that allow them to make hormones needed for reproduction. Having fungi as partners has allowed these insects to be the top killers of conifers world-wide. Prior to climate change, beetle outbreaks were natural disturbances beneficial to the forest. They initiated new growth and created a diverse forest structure supporting greater biodiversity. However, climate change is now driving mega- outbreaks that can reduce biodiversity and create major shifts in forest structure. Part of my research is looking at the genetic diversity that remains in a forest after a large climate-driven outbreak. My research shows that forests have considerable genetic potential to adapt to climate change but that current management practices may reduce that potential. I am working to develop approaches where genetic diversity and structuring in forest trees is included in forest adaptation and conservation efforts."