For some this may not be new, but I wrote this last year for the Trail's 125 Anniversary issue and thought it would be nice to post here.
Be well, friends!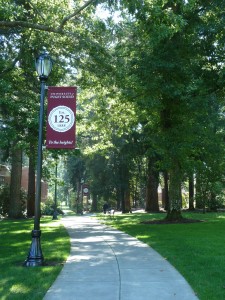 ______________________________________________________________
If you ask any one student what Puget Sound's 125th anniversary means to them, they probably wouldn't say that it means much. After all, four years gives us only a brief glimpse of the long-established and complex institution that is Puget Sound. The only reason it might be "significant" to us is the free stuff we get at the anniversary events. We feel minuscule on the scale of it all.
And that's totally fine. Because the 125th anniversary is about embracing perspective. It is about seeing beyond ourselves on the timeline of our University and being proud of what we each bring to its future.
The first contact I ever had with Puget Sound was a picture of a tree on a postcard from Admissions. I remember it vividly; staring upwards into its branches the photo set me at the base, gazing up along the sturdy trunk with its branches and leaves just out of focus, just out of reach.
Only now have I begun to realize this photo's applicability. The day I enrolled at Puget Sound I sat at the beginning of my journey, gazing upward, with no clear end in sight, teasing me; begging me to begin the climb. That hot August day in 2010 when I moved in to Harrington Hall, my climb began.
And now that I've embarked, the 125th anniversary is an excuse to look fondly down the trunk beyond where I began my trek. It's an excuse to admire the breadth of our roots, and appreciate where we are; to open photo albums, to venture into the archives, and to embrace what got us here, together. After all, appreciation and awe is experienced only when understood in relative terms.
125 means grounding. It is an opportunity to savor our rich community and connect with our deep history. But it is also an opportunity to look forward, always upward, at what our community has, and will, bring to the world.
125 is about perspective; adding up every individual's experiences to form a collective whole: a communal memory, a mutual dream. One hundred and twenty five years worth of students have brought their own stories—their own roots—four years at a time, uniting in one communal trunk. Together we grow until finally we depart; and while from there our direction is our own, our trunk remains Puget Sound; sturdy, slowly widening from within with every new ring of students.
Our history is our roots, planted firmly in the nutritious soil of knowledge beneath our feet. Our path is the unshakable trunk keeping our community reaching for that far-off end that we can't quite distinguish, forever pointed in the only direction that we know; to the heights.