Have you ever learned about something, only to go into the field and find out that it's much more complicated, yet simultaneously much simpler than you expected?
It's a phenomenon that I've become accustomed to in the world of liberal arts, and my summer internship in the U.S. Senate is no exception. While taking classes in the Politics and Government department (one of my minors) I've learned about the goings on of the federal government. Textbooks are packed with models and flowcharts, all of which the authors say are crucial to understanding government from the outside. But this summer I wanted to learn about it from a different perspective.
Let's back up a step. Since the deadline's passing, my decision not to study abroad haunted me like a plague. So when I began my summer internship search in late January, I only knew that I wanted to go somewhere new. I wanted a different experience in a foreign land: the east coast. I set my sights on Washington DC, the land of politics.
In the following months I applied to countless internships, submitting cover letter after cover letter, taking advantage of too many walk-in hours at Career and Employment Services to count. Then, after a long season of resumes and interviews, I got the offer: the US Senate.
As you may or may not know, I hail from the great state of Minnesota (as founder of the Minnesota Club, it's not something I talk about much). And this summer I have the pleasure of serving one of my Senators—U.S. Senator Al Franken—in his DC office.
I'm not going to lie; working in the U.S. Senate is pretty awesome. I can spend my lunch hour exploring the cavernous hallways of the U.S. Capitol, I attend lectures from high-up government officials, and I run into Senators in the hallways (in the case of Senator Warren, I mean that quite literally).
It's not all fun and games; the office does serious work and I get go be in on the action. Mainly, I help research policies and I talk with Minnesotans. But I also get to sit in on meetings and work with the staff, which is an awesome opportunity. The policy process is super fascinating and it's really incredible to be around such focused, accomplished people. Its impact on the country definitely distinguishes this office from others I've worked in, and it's not something that people here take lightly. Each interaction that I have emphasizes the acute and unique influence of this body's policies.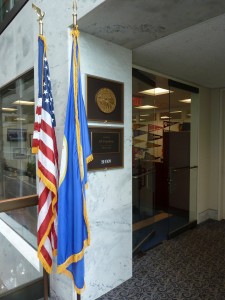 When I was choosing between internships, one comment from my interview here kept resurfacing in my head; "I already know what a high-energy campaign office is like," I explained, "but how is your office different?" Camaraderie, he said, isn't a common trait on Capitol Hill, but the Franken office has a communal understanding that each person is here for the same reason: to help people and to make a difference. Every day we understand the gravity of what we do, he said. That answer stuck with me until the moment I accepted the internship.
And I've found that to be absolutely true since I got here. People are warm, nice (we are all from Minnesota, after all), and there's a certain weight that people carry here, which I haven't experienced before. But instead of that weight translating that into stress or awkward insularity, it manifests in a noticeable focus. The people I work with are incredibly smart, very sharp, and also clearly focused.
My office, like all Congressional offices, has a certain structure. The Senator or Representative is obviously at the top. Within my office different staff have different policy areas of specialty: health, energy, national security, education, agriculture, labor, etc. Each specialist aids the Congressperson in his or her area of expertise, which allows the policy maker to be the ultimate decision maker. Then, of course, there's the Communications staff who do exactly what you'd imagine: talk with reporters, manage social media, etc.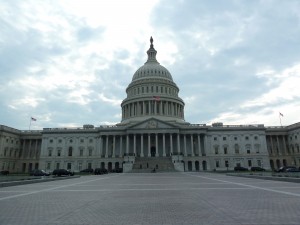 I don't know what I expected coming into the office, but it's definitely exceeded that. I'm learning a ton about how Congress functions, I'm learning a lot about the issues Minnesotans care about, I'm learning a lot about my policy areas (energy and agriculture), and I'm also simply enjoying being in Washington, DC.
The city is young and vibrant, yet it's also noticeably homey. You won't find skyscrapers in DC, you won't find a stench wherever you go, and people aren't cold to you—in fact quite the opposite. Sun pours between the buildings, the streets are clean, and strangers lounging on their stoops warmly greet you as you pass. There are always things to do and there are tons of museums to visit. (The National Portrait Gallery is my current favorite.)
I've even been fortunate enough to have friends already here. (i.e. I don't have to do the meeting-new-people thing) Many are friends from Puget Sound or fellow students out here for the summer.. But some are friends from the many programs I've been a part of: Friends from Coming Together, the interfaith conference I attended in 2011, Youth In Government, the YMCA program-that-keeps-on-giving, and even from high school all seem to have congregated here. In fact, last Friday I met up with ten Logger alumni who welcomed me, even though I'd never met most of them. (Definitely the benefit of an engaged college campus, people actually go into the world and make a difference.)
My time in the District is at its halfway point. I still have some monuments I want to see, museums I want to visit, people I want to meet, and networking I want to do (if you know anyone in public radio, holler). This is my last summer before the real world, and it's my first summer on my own. But soon enough I'm heading back to Tacoma for Orientation (Passages!!!). Right now it's tough picturing going back to school, but the future will come whether I like it or not. In the meantime, I'll just enjoy the District.