Hey everyone!
Wow, where do I begin? Well to start off, I can't believe that classes are already back in session! This summer absolutely flew by.
My summer has been spent working on a mix of things for my research grant– I shadowed at a photography studio (I'll post on that later– it was awesome!), read a lot of interviews, studied a lot of art, and I did a lot of my own photographing! Currently I'm preparing for the AHSS Summer Research Symposium, an event where all of the Summer Research students get together and share their research and talk about the experience. For some people it means turning research papers into posters, but for me it means determining which photographs I want to share, preparing prints, and figuring out how I want to present them.  I thought it would be fun to share a couple of my personal favorite photos from the process of photographing, as well as a little bit about each one: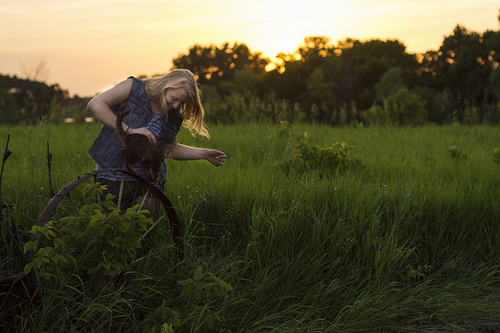 This is perhaps one of my favorite candid shots that I have taken. The girl in the photo is my good friend Lis, who has been in many of my other photos. One of my favorite things about this is that it's truly Lis: this is at the farm she grew up on,  and she's just doing her own thing as if the camera wasn't even there. All I did was tell her to go over to the metal wheel– everything else just fell into place. The lighting was completely natural, the kitten hopped up there on its own, and the breeze caught her hair at just the right moment. Even the post-production on this photo was fairly simple: all that was added afterwards were some adjustments to the highlights and the overall tones. Also, fun fact: photographers commonly refer to the late afternoon/early sunset time as "golden hour" because of the gold glow that the light naturally casts over everything!
This photo was more involved than the first photo, both in preparation and in post production! The red stuff on my friend Kenzie is glitter– yes, glitter– before we began shooting, we took a wet washcloth, used it to dampen her skin (so the glitter would stick), then promptly poured glitter onto her skin! Another photographer whose work I enjoy used the technique in one of her photoshoots, so I thought it would be fun to test out and try something new. I ended up using glitter in some of the photos in my final series(in a way similar to this one), as well as paint and other art supplies to give them an extra twist. The location was an abandoned farmhouse– this was in their shed, which was filled with all sorts of creepy crawly things. The wall behind her was actually two doors that were cracked open, which looked really strange, so I ended up using photoshop to close the gap and create a seamless wall! I also used editing software to enhance the lighting and create more atmospheric tension.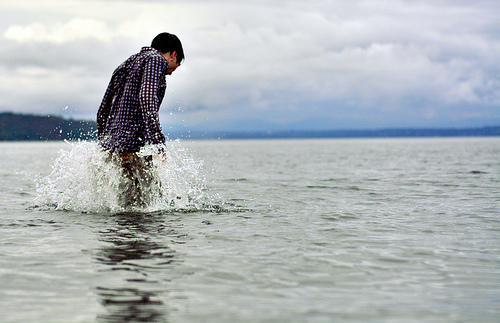 This is the last photo I'll show for now. The story behind this one is that at the beginning of this summer I convinced my friend Sean to jump into the Puget Sound… and then I had him jump another 20 times until I got the shot I wanted (we joked at the time that it was "in the name of art!"). Toughing out the icy water is no simple task, but Sean was a champ, and I got some cool photos out of it. As far as the concept behind it, I mostly wanted to try something unusual, and somehow the idea of jumping into the sound fully clothed popped into my head! The colors were adjusted to match tones similar to the ones found in film photographs, and I played with increasing the water droplets around Sean's body as he propelled himself out of the water (he's jumping up here, not down). This photo also graces the back cover of the new Puget Sound view books, so if you pick up one of those, flip to the back and you can see it in print!
Sometime in the near future, I'll share a bit about my experiences shadowing in the studio, presenting at the symposium, and post my final series. If you're in the area, come check out the AHSS Summer Research Symposium, September 10th from 3:30-5:00 PM in Collins Memorial Library! I'll be there to talk about my research (you'll be able to see other photos from over the summer), and all of the other grant recipients will also be talking about their work. It'll be awesome.
-Emi