Well…it finally came. My last two weeks of summer research.
While it hasn't been easy, it's definitely been a rewarding experience and an experience I will always be infinitely thankful for.
These last two weeks have had me working very hard finishing up last minute details and my poster. One of the things that needed to be processed was all the data analysis and DNA sequences. Imagine seeing this (multiply by five):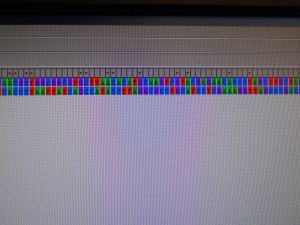 That's one sequence of DNA (each row is a strand). Imagine aligning and inputting 60-80 of these rows a day into an electronic database to be identified and you can see where it can be time consuming!
Aside from that though, here's some of my favorite pictures from this summer:
While doing data analysis, I heard the water running in the tank these guys lived in. The sea stars especially are interesting. One minute they look like the above right and the next time you look at them they've moved half way across the tank! Very sneaky…
These pictures were taken along Ruston Way. On the left, Vashon Island is in the background and on the right Tacoma is in the background.
Proof of a mad scientist's lab. (Kidding!) In all seriousness and honesty, I definitely felt like a scientist when setting up and organizing all my reagents (liquids in the bottles).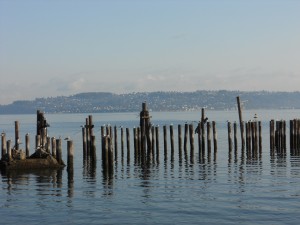 And finally, this picture. While this wasn't taken this summer, it's still one of my favorite pictures I have taken of Tacoma. It reminds me of peace, calm and new beginnings. To relate this to summer research, even though summer research has ended for me, I see it as a beginning, not an end. A beginning of my pursuit of science and a beginning that will serve as the foundation for what is yet to happen in my life.
Thank you to all of the people that have been reading along! My hope is that these posts have been refreshing reads.