I finished my first big project for the American Friends of UNRWA last week.  We hosted a 5K run/walk as a fundraiser for summer children's programs in Gaza on June 9th, and I was assigned to be the photographer for the event and put together video/photo galleries on our social media pages.
Foe-toe from the 5K..
.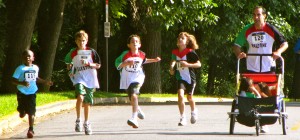 I had done basic editing to post my radio shows to YouTube before, but this was my first full-fledged production.  Cool part of the story though, I discovered the music I used for the video at a concert by Omar Offendum in the WSC RoFunda.  I contacted him via email for permission to use the music, and he replied with a "yes" almost right away.  He even said he'd promote the video when it was finished, but that part of the deal hasn't materialized.  Anyway, it was cool to get in touch with such an amazing artist and poet.
Take a look!
There will be more videos to come.  Keep it cool Logger Nation.