OCT 30TH 2011—There many different roles and responsibilities associated with being the ASUPS President, but it is fair to say that none afford as much insight into the inner-workings of the university as the ex-officio seat I have on the Board of Trustees. And after an historic weekend that included a building dedication, millions of dollars raised and a campaign kick-off that will be remembered for years to come, I can't help but take a step back and try to capture in words the weekend that was.
In a political climate terse with the Occupy-Your-Nearest-Location attitude, the arrival of thirty-plus trustees onto campus—most of them being 1%ers according to the Occupy Movement vernacular—could have been expected to raise the stereotypical ire of a liberal student body. And on cue, The Trail released a disparaging opinion piece about Weyerhaeuser Hall the day of the dedication. Without commenting about my disappointment in the choice by The Trail to stir controversy just for the sake of stirring controversy on a day that should have been anything but controversial, I want to talk a bit about the trustees and what took place this past weekend.
Looking back on all I saw and experienced, I only wish that more students could have been a part of it. Certainly, there were plenty of students who gleaned some perspective of the "business side of things" that the trustees and school administrators deal with on a regular basis, and groups such as RDG and Garden Level put on remarkable performances for all in attendance. But even including those performers, it was only a fraction of the student body that got to witness the incredible display of optimism, generosity and passion that was celebrated this weekend.
On Thursday and Friday, I sat in numerous workshops and meetings with trustees, listening to them articulately analyzing all the different facets of our university. Though I did participate a bit, for the most part I sat in awe and watched how they related the individual components of the Puget Sound experience to the broader mission. Listening to all of their wisdom and insights, I can  honestly say that I am grateful that our school's direction is in such capable hands. On Friday evening, I watched the quiet generosity of Bill and Gail Weyerhaeuser—which has been positively impacting our school for numerous decades—be recognized with the dedication of our new health sciences building, Weyerhaeuser Hall. Their love of the University of Puget Sound was evident on their faces and in their spoken words as they graciously accepted such a deserving honor.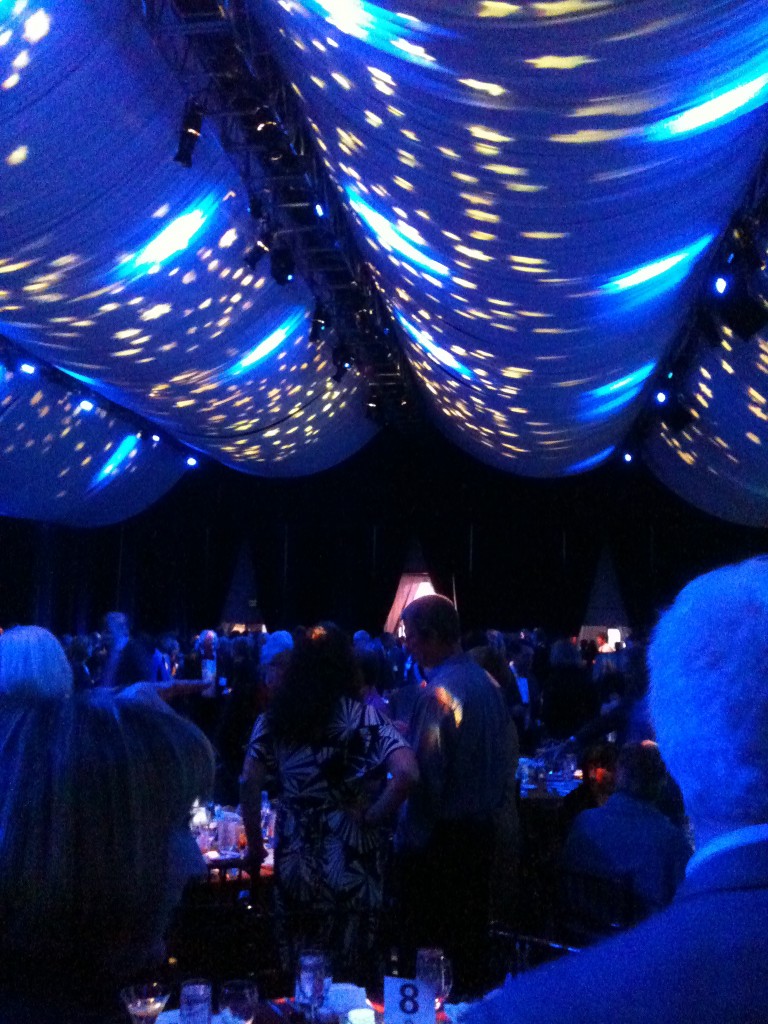 Finally, last night I was privileged—along with quite a few other students—to attend the public kickoff of the "One [of a Kind]" campaign for Puget Sound. Already having raised $74 million dollars for the Puget Sound fund, the campaign's kickoff event took place in a transformed Fieldhouse gym [see the picture above]. Though the evening was celebrated with fascinating performances, exquisite decorations and a savory four-course meal, the heart of the evening was in the speeches that closed it. We were able to hear different stories about the Puget Sound experience, about how undergraduate experiences here helped individuals discover their capacities, motivating them to go out into the world with a devout intent to change it for the better. And many of those individuals—despite being national and world leaders spread across the country and globe—still believe in our school, enough to come back and continue to help making the opportunity possible for our generation as well as those that will inevitably follow us.
It was a weekend to remember for all involved, but I only wish that more students could understand how fortunate we are to be at the school we are at, with the support we have behind us. If nothing else, my exposure into the Board of the Trustees has taught me to be thankful of all we have. It is a unique opportunity we have, being students at Puget Sound, and one that we ought to be appreciative of.
Yes, many of us students have worked hard to get here as well. Yes, many of us pay a fair amount to be here out of our own wallets [or those of our parents/guardians]. And yes, the school spent a fair amount of time, energy and money celebrating its donors this weekend. But I think everyone involved will tell you that what was really being celebrated was the Logger experience and identity, and the profound impact that our school has had on so many students.
All of us students should remain forever cognizant of and grateful for the work others have done to make our experience possible. There are many who have spent their lives working to make the school the incredible place it is, whether through service on the Board of Trustees, through public or private donations, through participating in the ASK Network and simply by staying connected to the school that changed their life when they were here. Though not many students got to see the inspirationally-authentic devotion for Puget Sound that was on display this past weekend, I hope that we all can remember to be grateful for the [often invisible] work being done for our school behind the scenes.
This weekend affirmed my pride and humility in being a Logger; please take this as my 100% guarantee that you would be justified in feeling the same way.
"All my life I wanna be a Logger"
All my life I will be a Logger. We all will be, and we should be inexpressibly grateful for what that means.
(by the way, the entire reception area was filled with larger-than-life photos of students, staff, faculty and trustees. They didn't let us know about this in advance, so I walked in and immediately saw myself [above left] staring back at me. It was surreal.)