On our one day of sunshine this week, I took my Saturday to fall in love with Tacoma. Cruising around on our two-wheeled non-motorized transit, we let ourselves get lost in South Tacoma and Hilltop for the day. And I'm so thankful that I did. This town, I tell you what. Don't tell the girls I live with at the Eco Friendly Gourmet Theme House, but I was in desperate need for a good greasy spoon breakfast joint, a real diner. And as big as Tacoma is, we knew there was one hiding. We ventured to Marcia's Silver Spoon on 2601 S. Tacoma, where they make scrambles filled with everything but the kitchen sink (they may take that a bit too literally), a side of pancakes means two cakes larger than your head, topped with a mound of butter.  It's a great old place with a flashing, neon sign and an ancient coca cola advertisement on top. We told ourselves that the 20 minute bike ride made it worth the butter…and bacon… and pounds of pancake batter…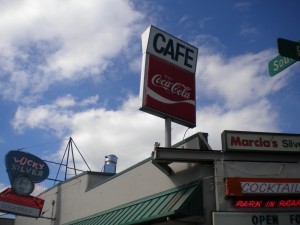 We then stopped by La Grand's community garden on S. 18th and G street. The garden is in a predominantly Vietnamese neighborhood. The land was given to the community through a grant, and the community has certainly not left the space to waste. From corner to corner, the garden is exploding with tomatoes trelaced with the utmost care, squash that are held dearly in woven baskets, herbs which are protected by plants which climb to hide them from the sun, and life. I also got to practice some of my Vietnamese, reminding me that, well, I need to practice my Vietnamese. And they're compost system, my WORD… immaculate. Who knew waste could look so good? Speaking of gardening, if you find yourself on n. 17th and Alder, come pick some kale! The campus garden has just about reached its harvest season peak, and there is more kale than we know what to do with.
And, finally, I visited 2nd Cycle on MLK and between 10th and 11th completely on accident. It's a volunteer run bike co-op which offers extremely affordable (often free) bike mechanic assistance and spare bike parts. Its an awesome hole in the wall place that just feels so welcoming… I wish I remembered their hours, but you can visit their blog at 2ndcycletacoma.blogspot.com. But don't forget about our bike shop! Its located in the expy with the skilled and diligent Chris Marsh, who is AWESOME and knows more than anybody in the entire universe about bikes. A slight exaggeration, but only slight… Open MWF from 3-5.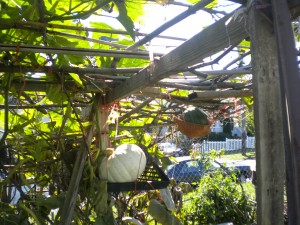 Point is… Get out and start loving this place! Admit it Tacoma, your beautiful.