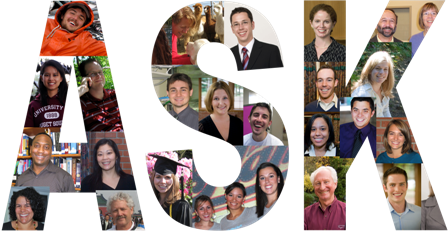 Do you remember trying to decide what career path to pursue, whether to attend graduate school, or how to find a job? Students and recent graduates still face these quandaries. But now, you can help! Attend Alumni Sharing Knowledge (ASK) Night, and more importantly, join the ASK Network to share information with Loggers in need of career advice.
Why attend ASK Night?
"To pay it forward. I had a great experience using the ASK Network and I want current students to feel the same way. It's also a really unique recruitment opportunity for alums. I would love more Puget Sound graduates to work for my organization, and my insights may be able to help that happen." Liz Weil '11
"It is an opportunity to share our work experiences and the value of our liberal arts education with students." Ken McGill '61
"I like chatting with students who are on their way out into the world. That was such an exciting time for me and it's fun to relive some of those experiences through stories and advice." Eric Peterson '00
"Even a 5-minute conversation can make a tremendous impact on how a student approaches their post-undergrad plans. Whether it's specific industry insight or big-picture advice, guidance received at ASK Night can provide a great deal of clarity for students searching for ways to be more proactive in their planning." Joe Wooley '10
"I like answering student questions about my line of work…it reinvigorates me and helps get me excited about my industry—it reminds me of why I love to do what I do." Gretchen DeGroot Lenihan '99
"ASK Night is a great networking activity and gives alumni a chance to reconnect with the Puget Sound culture." Kelsey McKee '08
"You will be asked thoughtful questions that provide insight about how young people in our companies are thinking. I'm impressed with the quality of current students; it provides hope that these are our future leaders." Madeleine Wiley '80
Ready to share your knowledge, and possibly learn something from current students in the process? Join us for ASK Night!
© 2012 Career and Employment Services, University of Puget Sound