April is Student Employment Month, the time when the university pauses to acknowledge the important and valued contributions of student staff members at Puget Sound. About 1,200 students work on-campus each year, providing the equivalent of nearly 25% of non-faculty University employees. Working during college provides many benefits to student employees, including career-related experience, networking opportunities, and of course, a paycheck!
The student employment experience would be incomplete without the guidance and support of supervisors. Students and their supervisors work in nearly every department on-campus, offering varied experiences for different sets of skills, interests, and values. In addition to providing direction that helps students to support the day-to-day business of the university, campus supervisors are committed to students' career development and future successes.
One such supervisor is Czarina Ramsay,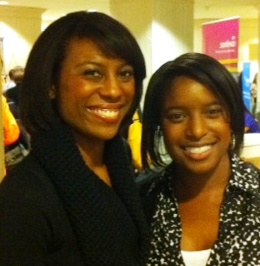 a Puget Sound alumna who returned to campus as Director of Multicultural Services. Czarina graduated in 2002, having majored in Comparative Sociology with an emphasis on Cultural Anthropology. For all four years as an undergraduate student, Czarina worked on-campus as an Info Desk Assistant in the Wheelock Student Center. "My position at the info desk exposed me to higher ed administrators," she said. "My work-study role led to interactions with associate directors and deans and those relationships led me to stumble into student affairs."
One of the administrators Czarina met as a student employee encouraged her to explore the NASPA Undergraduate Fellows Program (NUFP), further developing her interest in higher education as a profession, "I ended up finding a niche," she said. After completing the NUFP internship and graduating from Puget Sound, Czarina admits she was "a bit of a wanderer." She completed an internship in the Office of Hispanic and Latino/a Student Services at Northwestern University then wandered to Panama, volunteering at a bilingual school in Panama City. While in Panama, Czarina appied to a graduate program in Higher Education and Student Affairs Administration at the University of Vermont. After completing a Master of Education degree in 2005, she worked at Seattle University in Residence Life and in Multicultural Affairs. Czarina then applied to the Director of Multicultural Student Services position at Puget Sound and returned to campus in her new role last summer. "The opportunity to serve as a director excited me personally and professionally. I was excited to come back to my alma mater and contribute in a valuable and meaningful way."
Supervising student staff members is a rewarding part of Czarina's role. Student employment isn't just important, "It's huge," she said. "We forget that the roles students have on-campus are some the most formative they will have before they go out into the working world. I don't take my role as supervisor lightly." Czarina pointed out that students have both a financial and professional stake in student employment, earning money while developing transferable skills. "This is the first job for most students. Students learn about customer service, problem solving, team relationships, and organization. Those are the skills I talked about when I left Puget Sound and when I applied to graduate school."
Supervisors can have a huge impact on student job satisfaction and performance by focusing on the success of individual students. "I like the one-on-one conversations and making time to check on individual staff members," she said. "The relationship you have with the staff is the foundation for success in your area."
When it comes to building relationships with student staff members, Czarina is strategic:
"Ask students what they want to do, talk about their goals, and connect those things to their responsibilities," she said. Building relationships is helpful when it comes time for performance conversations, too. "Keep in mind that these are students who might not yet know what they're good at or what they want to do," she said, noting that establishing trust makes it easier to provide constructive feedback.
As we pause to recognize the great contributions of student staff members during Student Employment Month, Czarina highlighted a few creative ways to celebrate student employees, such as acknowledging birthdays, writing cards, or highlighting individual successes during staff meetings. One of the best ways to acknowledge student staff members is to identify opportunities for their professional growth. "It's important to get a sense of their goals and interests so when opportunities come along I can float them their way," she said, noting that earlier this year she brought a group of students to a diversity conference. From past experiences working in larger departments, Czarina talked about successful ways she has engaged with individual students on larger teams. "Try putting trivia or a question about customer service in a staff e-mail update," she said, noting that the students who reply correctly could be put into a drawing for a small prize.
When it comes to student employment, Puget Sound is distinctive in the ways in which supervisors are encouraged to interact with and support the career development of individual students. "The partnership between [Career and Employment Services] and the departments with student employees is mutually beneficial," for students and supervisors she said.
Czarina's experiences as student employee at Puget Sound played a role in her career path that helped lead to her early successes. When the time came to return to campus, she said,
"I was ready for this type of leadership."
© 2011 Career and Employment Services, University of Puget Sound
Photo: Czarina Ramsay
Save