The number one reason graduating seniors do not have jobs at graduation is:
A) The economy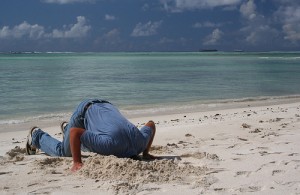 B) Too much competition
C) Not starting the job search
The answer should be obvious: C.
The number one reason graduates do not have jobs when they walk across the stage at graduation is because they haven't started doing a search.
I often hear students say "Oh, I'll get to that after I finish my thesis/theatre performance/final exam" and shrug their shoulders. Six months down the road I also hear "I'm tired of living with my parents." Every year we ask the prior year's class for advice for the graduating seniors, and thematically the resounding message is START EARLY.
In fact, start now. Whether looking for a post-graduation job or a summer internship, early spring is when positions start blooming like crocuses in the formerly barren cracks of the job market. Here are some tips to help you get started:
Diversify Your Strategy: Relying on only one method for finding opportunities will lengthen your job search considerably. If I had a dollar for every time a student bemoaned the lack of offerings on Craig's List, as if that were the only place to find a job, I could retire tomorrow. You wouldn't write a research paper using only one source, would you? Use multiple resources to cast a broader net.
Get Off the Internet: Job and internship seekers tend to spend the majority of their effort on the least effective methods, directly the inverse of how employers recruit new hires. Employers use the following methods to recruit, in order:
Look to their current employees to make referrals
Identify candidates through contacts, business associates, or professional associations
Recruit candidates from targeted schools and organizations
Employment services
Post jobs on job boards
So where do job-seekers typically start? Job boards.
There's nothing inherently wrong with job boards. Use them to get your feet wet, help identify where you want to start your search, or look at job descriptions to help craft your materials. Once you're ready to kick the job search into high gear, step away from the job boards and start looking for people.
Identify Target Organizations or Industries: To start identifying the people you want to connect with you'll need to narrow your focus. Make a list of organizations that you want to target for opportunities and then work through your connections, be they through the ASK Network, LinkedIn, Facebook, or quizzing your family over spring break, to identify contacts who can answer your questions.
Ask the Right Questions: It is unlikely your contacts will be in the position to make a hiring decision about a role that you fit. Ask for things they can provide – advice on the organization's hiring process, insight into the culture, tips on how to stand out as a candidate, and referrals to people who do have hiring authority.
Lastly, remember you don't have to go through this alone. Buddy up with a friend to tackle the challenge and hold each other accountable, talk to everyone you know about the fact that you are searching, and make use of every resource you have available to you. Your faculty, coaches, student group advisors, supervisors, and your peers are all resources, as well as the advisors from CES. Try every strategy you can think of and then get advice on finding more. The only thing you can do wrong at this point is to stick your head in the sand and do nothing.
© 2011 Career and Employment Services, University of Puget Sound
Photo: tropical.pete