1899: Hours in the Library
Author/Editor: Leslie Stephen
The author, Sir Leslie Stephen, was an English author, critic and mountaineer, and the father of author Virginia Woolf (see her entry in this project) and artist Vanessa Bell.
A literacy critic of his time, this book comprises of collected essays of the author.  In the introduction to the essay's the author includes a section, "opinions of Authors". Here are just a few of his selections: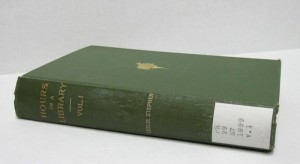 In a library we are surrounded by many hundreds of dear friends imprisoned by an enchanter in paper and leathern boxes.
-Emerson, "Books," Society and Solitude
I will bury myself in my books and the devil may pipe to his own.
-Tennyson
Words! Words! Words!
-Shakespeare
In this book he provides reviews of the writing of Daniel Defoe, Nathaniel Hawthorne, Sir Thomas Browne, Horace Walpole and Sir Walter Scott.
Sir Leslie was also the editor of the landmark publication Dictionary of National Biography. This landmark publication, first published, in 1885 was a  biographical reference for deceased persons notable in British history.  This type of publication was essential for researchers in the era before the Internet, and is still very important today!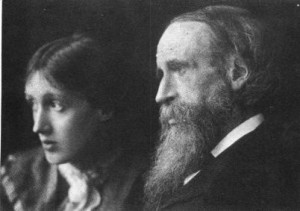 Pictured, Sir Leslie Stephen with his daughter Virginia Woolf, courtesy of the Virginia Woolf blog, University of Virginia.   http://virginiawoolfblog.com/timeline-of-virginia-woolfs-life-2/