1897: From the Land of the Snow Pearls
Author/Editor: Ella Higginson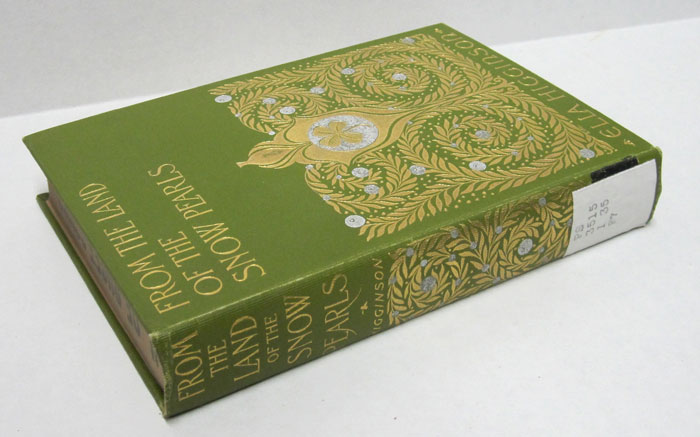 The title of this book:  From the Land of the Snow-Pearls:  Tales from Puget Sound is so enchanting who could resist further exploration.  The book is a collection of short stories that reflect the natural beauty of the area and a statement from the frontispiece of the book says it best:
Puget Sound lies in its emerald setting like a great blue sapphire, which at sunset, draws to its breast all the marvelous and splendid coloring of the fire-opal.  Around it, shining through their rose-colored mists like pearls upon the soft blue or green of the sky, are linked the great snow-mountains, so beautiful and so dear, that those who love this land with a proud and passionate love, have come to think of it, fondly and poetically, as "the land of the snow-pearls."
The front cover of the book is decorated in gold with a beautiful four leaf clover.
The author Ella Higginson's papers are located in the Western Washington University
Center for Pacific Northwest Studies.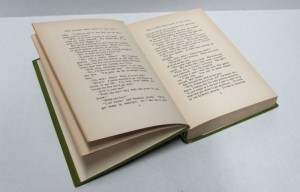 A short biographical statement from the web site is as follows:
"Northwest poet and writer Ella Higginson (1861-1940) was born Ella Rhoads in Council Grove, Kansas. She moved to Oregon with her parents as an infant, spending her youth in Portland and Oregon City. She attended public school in Oregon, and also received private lessons from Oxford trained S.D. Pope, then one of the most renowned educators on the West coast.In 1885, Ella married Russell C. Higginson (1852-1909) in Portland Oregon. The couple moved to Bellingham, Washington (then the town of Sehome) in 1888, where they opened a drug store on Elk Street. It was during this period that Higginson's writing career began to flourish, with her poetry and short stories published nationally by journals including McClures, Harper's Monthly, and Colliers. Her best known work, a poem entitled "Four Leaf Clover," was first published by West Shore Magazine in 1890. Higginson's novels and collections of short stories include Mariella-Of-Out-West, Alaska the Great Country, The Flower that Grew in the Sand, From the Land of Snow Pearls, and The Forest Orchid and Other Stories. In June 1931, she was made poet laureate of Washington State."