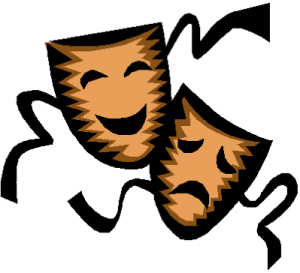 Since my last few posts have focused on Computer Science, I thought that I would take this post to update you on some artistic and humanities elements of Puget Sound student life this year. It's only been three weeks on campus and a lot has happened already:
My ten-minute play, "Short," was selected as one of seven plays to be produced in the 'Town Crier' short-play festival. Town Crier is a festival produced by Student Initiative Theatre, Puget Sound's student theatre organization. It features ten-minute plays written, produced, directed, designed, and performed entirely by students. The Festival is one of the more unique college theatre events because it features a large number of student-written and produced works on a yearly basis. The outpouring of talent and hard work that goes into rehearsing the Festival for a month and then performing at the start of October is always exciting, and seeing the Festival has inspired many students to write new works over the years.
In addition to sponsoring Town Crier, Student Initiative Theatre sponsors another play festival, the Infinite Monkey's 40-60 minute play festival, as well as full-length independent projects. I work on the independent projects team of Student Initiative Theatre, which is involved in selecting and managing independent projects. Working with this group constantly reminds me of the large amount of interest and talent in student theatre. The outpouring of enthusiasm and excellent project proposals that Student Initiative Theatre gets to read is really indicative of an active student theatre community on campus. The number of students working toward writing and producing sophisticated, full-length theatre really transcends the Student Initiative Theatre organization itself. Student Initiative Theatre supports student work, provides a venue for production, aids with any artistic or design concerns and with script development, and provides resources to assemble a full cast and crew, but the immense creativity and effort that goes into these shows truly is the product of independent student work.
In addition to working with student theatre, I also began my first week working as a writing advisor at the Writing Center. The University of Puget Sound Writing Center employs fourteen student writing advisors to advise students about the writing process during hour-long appointments. Writing advisors help students at any stage of the writing process. Most appointments focus on improving the organization, logic, and content of individual papers, often addressing how to strengthen an argument or how to rework a thesis statement to lay out the argument of a complicated paper. The Center focuses on making students stronger writers by giving them strategies to approach and edit their own writing rather than proofreading student papers. Another interesting part of the Writing Center is reviewing research and theory related to Writing Centers. I didn't realize before working at the Center that there is a large body of research on Writing Centers. Reading (and hopefully eventually contributing to) this scholarship has been very interesting, and has given me useful techniques for approaching writing appointments.
That's all for now. I have to get back to editing one paper and finishing my outline of another. Until next time!