Hello again! I apologize for the delay. So where do I begin… near the end of July, the skies were beyond clear, something very uncharacteristic of Shanghai. Usually, the city is enveloped by a lingering fog that seems to trap all sunlight and clean air. I definitely
took advantage of the good weather by hitting the pool 🙂 The internship is amazing! I have been working on doing a few blog posts a week for the Sodamedia website on the latest in digital, creative, advertisement, and luxury trends. Check it out here! I have also been working on doing market research for our marketing director, Paul. I have been helping him gather information for an interview being published in Affinity China's news release. Also have been working on doing research for a potential charity art auction in China that will benefit HIV/AIDS research and treatment. I am doing background research on artists in the area, looking up similar charity events and the results, and compiling key information in preparation for planning the event.
So the reason I chose this title was sort of the underlying principal of business. In order to do business, it's all about networking with people, being genuine, and building bridges rather than burning bridges. Being confident and not being afraid to approach individuals and introduce yourself is the first step to making connections. Especially coming to a new city like Shanghai and not knowing anyone, I really had to take the initiative and make friends on my own. The connections you build within your lifetime will help you grow immensely as an individual and open doors for your future.
I also thought the title was suitable because much of the market research I have been conducting. Much of the research directly correlates to the luxury market in China, how the landscape of the luxury market is changing, and what brands are doing today to build a presence in China. It is so remarkable to read articles on China's luxury market and see projects being unraveled.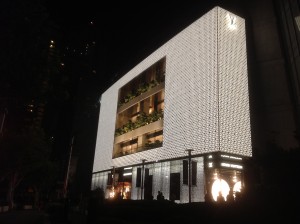 Right down the street from my apartment is West Nanjing Road. It's a sprawling roadway filled with luxury shops and restaurants. For example, I read about the opening of China's lavish Louis Vuitton flagship store and have witnessed the process unfold before my eyes. Got to see and read about what they have done digitally to promote the opening, see the broadcast of their runway show and the opening of their very elaborate store. It's about making the connections from what you learn and digesting/applying the information.
When I am not working, I love to explore the city. Shanghai is huge, so I am always discovering new places and things to do. Last weekend, I went to Old Town or aka, the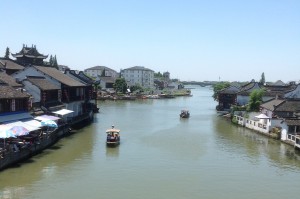 "Venice of China". It is a quaint town with beautiful canal ways and little shops bordering the water. I also got to eat more Shanghainese cuisine. Tried stinky tofu and river snails for the first time. Definitely an experience… Stinky tofu has the foulest scent when it's cooking, but the actual taste is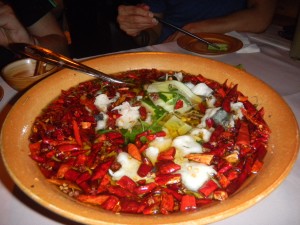 surprisingly not as bad as you would expect. If you love spicy and bold flavors, I would highly recommend trying Sichuan cuisine! You can get an array of dishes with spices that will leave your mouth tingling. Also went to Yu Gardens, definitely something to see while here. The location draws large crowds, so I would not suggest going on a weekend. Beautiful architecture and it's a traditional Chinese garden worth seeing!
I will be sure to create another post before I leave. Will be heading to Hong Kong for the weekend and then back home to Hawaii. Less than one week left in the city! Will definitely saver each moment. Cheers! Shelby