I realize that while I have blogged about theatre in the Pacific Northwest, I have not yet blogged at all about theatre here on campus at the University of Puget Sound. After seeing a series of excellent Senior Theatre Festival plays, I must certainly take this opportunity to discuss various opportunities for participating in theatre at the University of Puget Sound. I thought that I would elaborate a bit on various opportunities for performance, directing, and design in the Theatre Department and with Puget Sound's Student Theatre Productions club.
The Puget Sound Theatre Department offers four theatre productions per year – two faculty-directed productions and two student-run productions. This year's faculty-directed productions were As You Like It in the Fall and Metamorphoses in the Spring. (Also, the Music Department produces an opera or operetta every year; this year's was Pirates of Penzance. The Music Department collaborates with the Theatre Department every four years to produce a full musical)
In addition to the two faculty-directed productions, the Theatre Department also produces the Directing Class One-Acts in the Winter and the Senior Theatre Festival in the Spring. Both are student-directed festivals, the One-Acts festival featuring short plays and the Senior Theatre Festival featuring full-length productions that Seniors direct, design, and/or act in for their undergraduate thesis project in Theatre. The One-Act festival is the culmination of a semester of preparation both in and out of the Theatre Department's acting class, while the Senior Thesis Festival is the result of a year (if not more) of work in class as well as the product of four years of experience in the Theatre Department. Of course, both festivals provide ample opportunity for students not involved directly in either class to design and act in student-directed productions, and both festivals provide an excellent opportunity to be involved in entirely student-run theatre projects.
While the Theatre Department offers multiple opportunities to be involved in student-run theatre, the club Student Theatre Productions also provides opportunities for the development and performance of student-written theatre.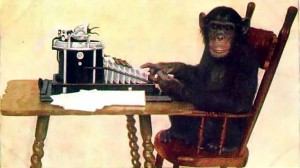 Student Theatre Productions produces two entirely student-run theatre festivals. The first one is the fall Town-Crier festival of short plays (10-15 minutes), then Infinite Monkeys, and then a collection of various independent projects that students apply to produce with Student Theatre's support. Town-Crier is entirely student produced, directed, acted, and written, and allows for new and experienced directors and writers alike to try their hands at crafting and developing short plays. Infinite Monkeys is a festival of two or three 30-40 minute one-act plays that takes place every year featuring entirely student-written, directed, produced, and acted shows. It's name is inspired by the Infinite Monkeys theory, which says that a monkey randomly typing on a typewriter would type Shakespeare's Complete Works verbatim given an infinite amount of time.
Student Theatre Productions also allows students to produce independent theatre projects. Independent projects can encompass many types of theatre, to performances student-written pieces, readings or workshop performances of published full-length plays, and the occasional performance of a musical.
Lastly, I thought I should mention that the Theatre Department offers scholarships for a variety of different theatre activities, from dramaturgy, to research, to technical design, to coaching acting classes. These are not only provide scholarship funding, but also provide invaluable opportunities to preform significant work in the Puget Sound Theatre Department. More information about the scholarships can be found here: http://www.pugetsound.edu/academics/departments-and-programs/undergraduate/theatre-arts/forms–policies/
That's all for now. I cannot believe that this is my final blog post before finals week! Reading period starts this Thursday, and end-of-term papers and tests are already looming. It's amazing how fast this year has gone by, and also to think that summer is just around the corner. Check back next week for my final blog post of the year (pun intended – in fact, it will probably be about finals!). Until next time!