Last weekend was one of the most nostalgic experiences I have had while at Puget Sound. In conjunction with CircleK (a college version of Key Club and the larger Kiwanis international service organization), the UPS Interfraternal and Panhellenic Councils helped to hide easter eggs out and around the woods outside of Weyerhaeuser Hall and across the Event Lawn last Saturday.
Awake again earlier than I might have wished to be, it was a beautiful Tacoma spring day complete with sunshine and only a light wind. With the track team competing in the background and people walking with their families or dogs leisurely about campus,  I couldn't help flashing back to my own childhood as we hid the eggs around the newly created woods. I still today can't remember the last easter egg hunt I was a part of, but hiding eggs quickly brought back memories of my favorite places to find eggs, and how excited I was to run around on a spring day in search of a plastic egg hiding chocolate from me.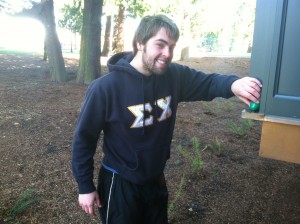 I was almost a kid again, trying to figure out the places that would make it just a little more difficult for kids to find the eggs, just slightly out of the obvious. After all, for me at least, half the fun of any easter egg hunt was the great feeling you got when you found an egg no one else did. Though we might have started to get a little carried away with how crafty our hiding spots were, it was fantastic.
As you can see in this picture of Moira, a member of the Panhellinc Council, brimming over with eggs to hide, the event was nearly as much fun for us to help construct as it was for the kids who enjoyed it. Ok, that may be a bit of an overstatement. We loved this event, but the pure joy that overtook all of the children that day is hard to match.
And then the kids arrived. With two areas for children over and under 5 years old with more than 200 eggs spread around them, it was a fantastic setting for an egg hunt. The children ran through the woods together searching for every last egg, and would continually help each-other by point out eggs closer to one another and share spaces with one another. The whole time they were hunting they wore smiles on their faces. Watching them check every nook and cranny of the less and one acre wooded area, all the Greek members cheered the children on as we hoped they wold all find the eggs we thought we had so ingeniously hidden. We quickly found out, however, that we are apparently not that clever. It took maybe twenty five minutes for all the eggs to be found and for the families to head back to event lawn to start going through them.  As they did everyone seemed to have a smile on their faces, though their parents looks grew increasingly disconcerted with the amount of chocolate the eggs were producing.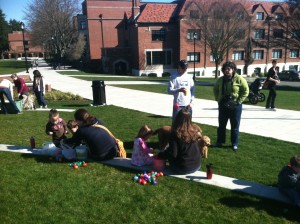 When things wrapped up, families started to depart, and we began to walk away, all of us on the Councils were buzzing over how wonderful our mornings had been. As I mentioned in my last post, if you often ask a college student to wake up early on a Saturday, they may not be the most inclined to say yes. But in this case, coming out to help set up this event gave us more than we ever could have expected. It gave us a trip back to our childhood, a glimpse of what easter used to be like, and the opportunity to feel like those children we used to be once more. Even if only for a moment and a beautiful sunny day.