And now for the next installment in my "What I Did During My Winter Vacation" Series: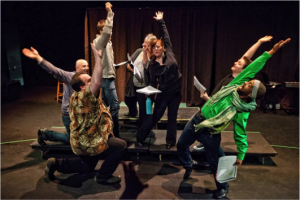 The first day of rehearsals for Fight Call began in an acting studio in Portland. Actors huddled around the piano sight-reading the score, reading the script, and jotting down notes. For the first time somebody other than me was playing my score.
It was really interesting to watch singers scrutinizing my score, counting out the meter changes, trying to figure out keys. Working with a music director was fascinating – I would take notes on anything that I wanted to change and periodically pass them on. Usually the changes were quick and simple – this section should be a bit faster, keep this section in tempo, go to the major chord instead of the minor here, and so on. All in all, things went really smoothly.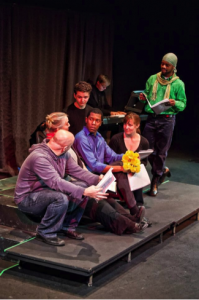 Watching the play come to life during the initial reading of the script was great, too. As composer and co-lyricist of the musical, I have to hand it to my brother for writing a hilarious book. Between the writing and the talented actors involved, the script was coming to life.
It was a very successful rehearsal, but we still had a long way to go. The musical is 17 songs long excluding incidental music, and about 75 pages. (The piano score is somewhere around 125 pages!) It runs an hour and a half, and as it is a "staged-reading," the director intended to fully stage the production with blocking and a basic set.
If you want to learn more, I invite you to like our facebook page at: http://www.facebook.com/pages/Fight-Call-A-New-Musical/304876839556438
Also, I wanted to mention that the Oregonian selected Fight Call as a "Best Bet" in the Fertile Ground Play Festival! Here's the link:
http://www.oregonlive.com/performance/index.ssf/2012/01/fertile_ground_2012_best_bets.html
That's all for now. I'll be sure to post some more rehearsal and performance updates soon!