It's been a busy few months, and I wrote this bit before Thanksgiving.
Phew! What a busy few weeks I've had! Halloween has come and gone, and now we're coming up on Thanksgiving. The time has flown by!
Last weekend I had the privilege of attending the Murdock College Science Research Conference, which is a conference for undergraduate research at private colleges in the Northwest. It was definitely a great experience to be around so many people that have a passion for the sciences, and I heard about lots of cool research that has been going on at other schools. I also did some volunteer work with Phi Sigma (biology honor society) helping Citizens for a Healthy Bay plant some native plants at Yowkwala beach last weekend.
Last night was also the first Men's basketball  game of the school year, which is probably my favorite sport to watch on campus.
Now, to catch up since then.
Today is the last day of classes for the semester, and I can almost feel the mixture of stress and relief radiating off of everyone on campus. Stress from those that have papers due by 5pm and relief from those that have finished their assignments and only have their finals left. I fall in the latter category. I haven't checked yet, but the library must be packed.
There are many events that are held on the last day of classes in a celebration of the end of the semester. First are the departmental holiday parties where students and faculty mingle, eat cookies, and be merry. If you time it right, you could probably hit up a good number of them and ingest a large amount of sugar. Later at night, it is somewhat a tradition of having a Midnight Breakfast where breakfast food is served in the dining hall late at night.
Other than various holiday events (there's also Mistletoast, various concerts, and religious services), I've been busy with homework and projects. My lab partner and I completed our independent project for animal physiology measuring the acute effect of exposure to air on oxygen consumption and heart rate.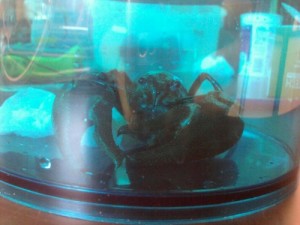 Also, a weather update. There has not been any snow yet, though it has been very cold (in my opinion, but I'm from Hawaii where it doesn't get below 65, so take that as you will).