After a great summer of roller-derby, working at Sonic, and hanging out with my family (especially my niece and nephew), school is finally back in full swing (and I'm finally getting used to carrying a Puget Sound course-load again). So, naturally, because this is my last semester at Puget Sound, it is also a semester of firsts.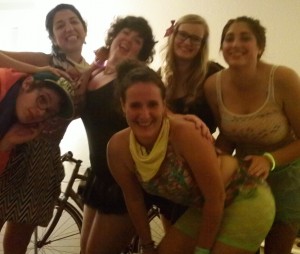 This is my first semester:
back from studying abroad in Vienna for a semester.
as a genuine senior.
being 21.
searching for a proper post-graduation job.
writing a thesis.
living off campus. (Check out the picture of my wonderous room!)
with a car to drive.
This last semester is presenting me with such a weird mix of nostalgia for the past, seize-the-moment sentiments for the present, and pure unadulterated panic for the future.
So I'm going to try and be a faithful poster between the thesis, all the other work, my radio show on KUPS, BGLAD meetings, volunteering with a local Girl Scout troop, trying to get some time on my roller-skates, my desire to enjoy my last few months of college, and the job hunt, and I'm going to try and keep you updated on how this juggling act goes!