I guess it's true what they say… 'all good things must come to an end.' Last week Karina and Imade our last trip up (together) to our field site at Mt. Rainier. To celebrate, wore crazy spandex shorts, and received a few amused looks from fellow hikers. Most summer research students have moved onto other activities this past week like Passages or Perspectives training, work study jobs, study abroad programs, and simply preparing for the coming semester. Luckily, Karina and I are able to extend our summer fun because our research starts so late as we wait for the snow to melt in the spring.
This week has been especially exciting because the incoming freshmen arrived on Friday. I've been reminiscing with my housemates that I met my freshman year about our first few weeks. We're all surprised how quickly our first three years have gone and the fact that we only have one year left until we graduate!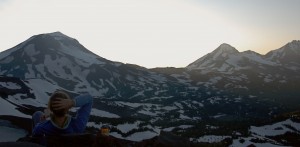 Karina and I recently got back to Tacoma after another week-long worm hunting adventure similar to our previous one in Central Oregon. We were able to see some of the same views as our last trip, but with less snow-still as beautiful as ever! The recent snowmelt also made for much faster travel.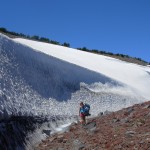 Once again, we were unsuccessful finding worms on Broken Top's Bend Glacier, and now I'm excited to research possible explanations for their absence there. While hiking from Broken Top to our next glacier on Middle Sister, we met an Outward Bound program, and I was excited to discover they had collection vials that Peter and I had delivered last year. We hoped with the frequent trips that Outward Bound might be able to collect some worms and educate the kids. Hopefully we'll hear back that they collected some worms!
We were able to collect worms on Middle Sister's Irving and Diller Glaciers. Because we have to wait until about 4PM for the worms to surface, we sometimes get to spend mornings hiking just for fun. On one of these side hikes, we climbed to the summit of Middle Sister and were able to collect worms on the Hayden Glacier (one Peter and I had collected on last year) around 2PM, which was surprisingly early!
We retraced our steps back from Middle Sister to Broken Top and stayed on the top of the Tam McArthur Rim. We were rewarded with a beautiful view of the sunset over the ten Cascade volcanoes.
Field research coming to an end means that I spend more hours in the lab, extracting DNA, running PCR, and analyzing my results. This part is sometimes a bit tedious for me-especially when I have to stare at a computer screen for too long. However, it's always rewarding to see the finished product. The Research Symposium is fast approaching; I'm excited to see all the posters start to go up!