-National Treasures-Second Story-Farmers Market-Smithsonian- Fishin' Blues- NCTC-Back to the Future-
Last week I discussed some world famous monuments that some, I suppose, would call "national treasures". Here is a short list of some lesser known national treasures that I have run across in D.C.
1.)    Second Story Books. This is right across the street from the stop for the bus that I take five days a week. Here, I found and bought a first edition of Joyce's Portrait of the Artist as a Young Man for 5 dollars. Awesome.  It seems to be less of a used book store and more of an antique store that specializes in books. If you're looking for a copy of the DaVinci Code, you might want to check elsewhere, but if you want an illustrated copy of the Tibetan Book of the Dead from the 20's, children's books from the time immemorial, or whatever this is: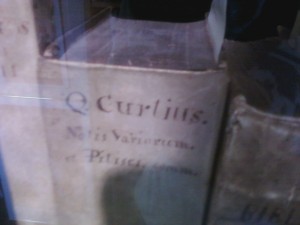 you're in luck. If you want to go to a bookstore where Nusrat Fateh Ali Khan plays over the speakers, posters and art from 80 years ago adorns the walls, where an old woman in a wheelchair browses through lesbian fiction and someone with a striking resemblance to Afrika Bambaataa browses the poetry wall and tells his friend "now that Bush is out of the White House, it's time for me to meditate on writing an autobiography", Second Story Books can provide all of that and more. This is the kind of bookstore where books are literally stacked to the ceiling and falling off of the shelves, but so fastidiously organized that they have individual sections for various waves of feminism. Places like these are increasingly few and far between so if you're ever in D.C., stop by and help keep these weirdos afloat. Weird independent bookstores are national treasures.
2.)    The DuPont Circle farmers market. I didn't even know this existed; I just stumbled across it on my way out of Second Story. Farmer's markets are a national treasure, and if my uninformed prophecy is correct, are going to become increasingly important in coming decades. Support farmers markets. They smell like basil, diesel fumes and broken strawberries. You can buy homemade soap, all of which seems to smell faintly of cinnamon. You can buy goat cheese, and goat cheese is delicious. Farmers markets are national treasures.
3.)    If you'll allow me to name a D.C. national treasure that I haven't actually seen but just came to my mind: Henry Rollins, a D.C. native, is also a national treasure. [i]
4.) The F.D.R Monument, which is stunning is a national treasure. Well done Washington D.C. Well done.
5.)    Alright, so the Smithsonian Museums aren't exactly "lesser known", but the fact remains that I am absolutely smitten with them. First and foremost, they have an astonishing amount of stuff. And to think how much more they have in their warehouses and archives! The mind reels. But what is truly admirable about the Smithsonian institution is that they let you see all of this stuff for free, which is absolutely and completely noble. Straight up noble. That is America at its absolute, if theoretical, best. I've enjoyed every single one that I've seen so far immensely. Notably, the  American History museum, which is seemingly eternally crowded with people lined up to see Abraham Lincoln's top hat and Dorothy's ruby red shoes. This museum also has a large exhibit on the history of American War, which is presented admirably, but hard to walk through on a crowded day when boys and men run excitedly up to weapons and admire them with gleaming eyes and compare them to their own and to others they have seen. The knowledge that 10 year olds have about weapons is astonishing, and, not to sound like a self-righteous bleeding heart liberal arts student, a bit troubling. I, for one, enjoyed the display of American propaganda much more. Perhaps it was a bit too effective? Part of the Vietnam exhibit features a wall of televisions showing notable televised Vietnam moments, Vietnam, of course, being the first "T.V. War". A whole crowd of people sat down to watch, and then, bizarrely, started taking pictures of the televisions. I'm still trying to figure that one out.  The Air and Space museum is interesting enough, I suppose, but awfully crowded. A majority of the crowd in the Air and Space museum is made up of school groups and D.O.V's[ii], both of which, like interns, seem to flood D.C. in the summer time.  My favorite Smithsonian museums to date are the Native American museum, the African Art museum the Hirshorn Gallery[iii] and the Freer Gallery[iv]. I still have much more to see which is both daunting and exciting. The Smithsonian institution is a national treasure of there ever was one. The Smithsonian institution is also responsible for Smithsonian Folkways, which has been and continues to be one of my favorite record labels. Their mission is simply to collect and distribute rare folk music from around the world. For as much as I've fallen head over heels in love with a million different pieces of art at Smithsonian museums in the past few weeks, my favorites are still the ones from Folkways. What makes them just barely better than the other Smithsonian exhibitions is that they're every bit as valuable as the ancient Maya art or American battle ships, but you can take them with you anywhere. Out of the many, many, many songs that Folkways has brought into my life, this is one of the best: Henry Thomas' Fishin Blues, played on Guitar and Porcupine Quill Pipe. This song is from perhaps the greatest folkways record of all, the Anthology of American Folk Music, which is one of my all time, desert island favorites. 6 discs of weird, wild, and wonderful folk from the 20's 30's and 40's, every bit as mysterious and beautiful as the human genome project or the religious text of your choice assembled by the experimental film-maker, magician, alchemist, and mystic Harry Smith. Fiddle breakdowns, french-cajun rave ups, a capella gospel, blues, protest songs, bluegrass, and music that can only be described as "other", the Smithsonian institution did the world a massive favor by releasing not only the Anthology of American Folk Music but all of their other records. And because I still believe in the imaginary, old, weird America, this record has become the soundtrack to much of my D.C. experience. But I digress.
Onto internship business: the highlight this week was our visit to the National Counter Terrorism Center, i.e, where the CIA, FBI, Department of Homeland Security, military, and "others" get their information on global terrorism. A truly fascinating place. Security there, unsurprisingly, was extremely tight, but we got to see some really fascinating stuff, including the main information gathering room, which looked not unlike the set for the television program 24. This NCTC visit was one of two that has sparked some career-type thoughts in me, as these visits were surely meant to do. Now, honestly, my unrealistic ideal for a career would be some split between homesteader/small farmer and teacher. If I want to actually make money however, it's not impossible to think that I could do this NCTC stuff. Not, of course, that I'm cut out to be a spy or anything. On the contrary, as those of you who know me probably know, I would make an absolutely terrible spy. But one arm of the NCTC that we talked to was focused on preventing terrorism through education, community outreach etc… subjects that are near and dear to my heart indeed. Instead of taking out terrorists, these folks take out the factors that cause radicalism. Even though this job would most likely involve wearing a suit most days, I think I would enjoy it. Incidentally, the other job idea was spurred when I saw a presentation by the head of ANERA[v] . One thing is for sure, every day I'm here, especially on days when we have these lectures[vi] and visits, I'm getting a lot of raw material to work with and grind over in consideration of what my future is going to look like. Because right now, I've never felt so certain or so unbelievably lost as to what that's going to be. You think you've got it figured out and then it comes back at you. Who knows?
In conclusion, this is awesome:
---
[i]
There will absolutely be more on Henry Rollins and other D.C. punks, both Rollins era and current in later entries.
[ii] D.O.V is my own acronym for "Dads on Vacation". Most of you probably know exactly what I'm talking about. They stand there in front of the exhibits with their hands clasped behind their back, reading extremely carefully, and take pictures of everything. They have, or would like to think they have just as much knowledge as the tour guides or park rangers, and ask extremely specific questions to prove it. The D.O.V usually has his family in tow, and may also have on his person one or more of the following: aviator sunglasses, a fanny pack, shorts and really pale legs, a souvenir t-shirt, a camera hanging around his neck and a look on his sunburned face that combines happiness to be here and be with his family with frustration at said family for lagging behind, not smiling in the picture, or complaining. The D.O.V may also have a fondness for taking "hilarious" pictures of himself or his family.a The D.O.V's are everywhere in D.C, but seemed to be especially populous at the Air and Space museum, obviously. Also see: http://dadsonvacation.tumblr.com/
a.)Happy father's day dad! You're awesome.
[iii] Modern Art
[iv] Mostly Asian art, which I was surprised to find myself falling so hard for, as I've never been all that into Asian art. Don't know what switched, but I was enthralled.
[v] Amercan Near East Refugee Aid, a non-profit that is exactly what you think it is. I think I would have some unrealistic and self righteous moral qualms about working at the NCTC, even though the people we talked to seemed to be of a similar mindset as me, i.e, one person we spoke with was  a religious gentleman who said that the particular religious deity he worships essentially led him to work there so he could help stop the spread of hatred in the world and promote interfaith understanding. Whoa. RIGHT up my proverbial alley. Still though…and I realize that one afternoon there is not enough to make these kind of judgments, I think I would be more comfortable working for a non-profit than a large,secretive government organization. This illuminates a struggle that I hope isn't unique to me: my socialist leanings vs. my distrust of the government. Principled collectivism vs. rugged individualism, if you will.
[vi] This past week saw a lecture by the U.S. Ambassador to Qatar. Interesting fellow.
Here is a bonus, and thematically appropriate, song from the good people at the Smithsonian institution.