I took my last final on Monday, and turned in my last paper on Tuesday… so, I was finished with my Puget Sound academics after that. Sunday is graduation (keep all of your appendages crossed in hopes that the forecast for rain changes). My family gets here Saturday. Everyone else is finishing finals. And I got my cap and gown on Tuesday. It's all really starting to sink that that I'm GRADUATING. I'm having to fight back periodic bouts of tears to really soak in every last moment and be sure to put a positive spin on the last days in Tacoma.
A lot has happened since my last blog post (which is why I haven't had much time to write), but here's a quick play-by-play:
1. Relay For Life was GREAT! The weather was beautiful, and the attendance was outstanding. We are even within a few thousand dollars of our fundraising goal… which is a feat I thought we would never accomplish a month ago. Here are all of the Loggers circling the track during our first Survivor Lap: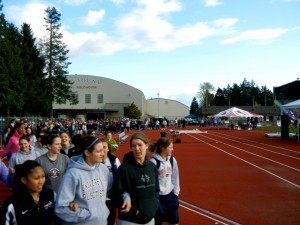 2. The Chemistry department spoiled its seniors rotten (after we played a bit of a prank on them). We got to go to the Chemistry awards BBQ on the last day of classes, then to our professors' house for dinner during Reading Period, and finally, the TAs got treated to breakfast at Shakabrah by the – you guessed it – Chemistry department.
3. Today was one of the best ways that I could imagine to really go out with a bang. As you may remember from earlier in the semester, I was part of the Youth Against Violence Initiative as part of The Greater Tacoma Community Foundation's Be The Spark movement. That event was all part of the build-up to Archbishop Desmond Tutu's public appearance tomorrow (Friday). Well, he's here! And today, he conducted a semi-private interview for a variety of students from around Tacoma. I GOT TO BE ONE OF THE STUDENTS! Basically, I was one of about 25 students in the room with Archbishop Tutu. We got to ask him questions, and the whole interview was taped by KING 5 News to be aired on TV. Archbishop Tutu had so many amazing things to say that I cannot even begin to reflect on them here, but I think that one of his biggest messages was the value of every unique individual. You cannot be great at everything, but you can be compassionate to others and let them help you as you help them. You can bring your personal power to whatever situation you are in, and improve that interaction in whatever ways you can. I was able to record some snippets of the interview, which you can see here.
I am SO incredibly excited for the Be The Spark event tomorrow, where he will speak again, and there will also be student performers, etc. It's going to be amazing!
As I mentioned, my family arrives on Saturday, and that's when graduation festivities really begin. A reception here, a convocation there, a brunch here, and – oh yeah – the actual graduation ceremony there (at 2pm on Sunday; it WILL NOT be raining, as I said). I'm really excited for everything to come, and even more excited for what lies after graduation. I'm still applying for Admissions Counselor jobs, and getting more excited by the day to dive head first into that endeavor!
I'll probably blog once more after graduation to reflect on my time on campus and how it all ended. And, of course, for everyone who has officially confirmed as a member of the Puget Sound Class of 2015… Congratulations! You have made a wonderful, exciting, and more-fulfilling-than-you-can-possibly-imagine decision.