Well, saying that last weekend was the "busiest weekend of the year" may or may not be true, since I have a few more equally-hectic weekends coming up in the next seven weeks: Phi Sigma undergraduate research conference, Admitted Student Days (3 of them), Spring Family Weekend (and my final Concert Band concert), Easter, RDG, and, of course, Relay For Life. This past weekend was pretty exciting, though.
On Friday night, Gamma Phi had our annual Mystery semiformal dance. We all got dressed up and headed down to the Landmark Convention Center in downtown Tacoma and danced the night away. It's always fun to have an excuse to put on a pretty dress and get off campus for a night. Here's a couple of my favorite pictures: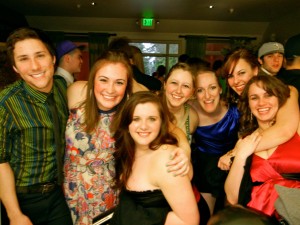 Some of my lovely friends that came to the dance!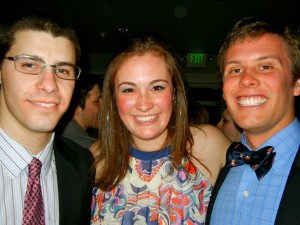 Some of the Relay For Life committee members that were at the dance… On such a small campus, it's great how activities overlap all of the time!
Saturday afternoon was the lunch to celebrate Gamma Phi Beta being at Puget Sound for 50 years. As Alumnae Relations Chair, I was in charge of planning a lot of this event, and it was so rewarding to see it all come together on the day of the event. We had 29 alumnae show up, plus over 80 active members. Some of the alumnae were even here when our chapter started in 1961! It was so great to hear all of their stories about the sorority's traditions and the house and all of the women who have been Gamma Phi's throughout the year. Here's a picture of all of the alumnae that attended. The founding members are seated in front: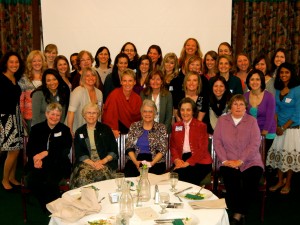 Saturday evening was G Phi's (Sensing a theme yet?) Big/Little sister reveal. Each girl in the house gets a "Big Sister" to help her through the Initiation process and to be a sort of mentor throughout her time in the house. It's aways so much fun to welcome new members in our "family" and my Wild Animal Family got TWO of them on Saturday night: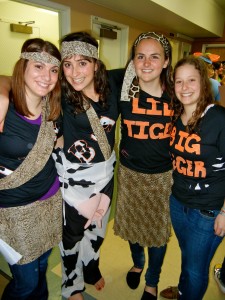 Later Saturday night, I broke away from the Gamma Phi theme of the rest of the weekend to head to the airport and pick up one of my good friends that I met while studying abroad in Scotland last year! She goes to Brown University, and it is their Spring Break this week. She is here until Friday, and it's so exciting to have a friend from abroad here in Tacoma. We can (sort of) pretend that we are back in Edinburgh… Anyway, we spent Sunday up in Seattle (exploring Pike Place and the Seattle Public Library), and then drove back to Tacoma and took advantage of the free student admission day at the Glass Museum. Andrea even won a free glass fusing class project that will be sent to her in Providence!
This week, Andrea and I have a few more mini adventures planned, but as Relay For Life gets closer and closer, my number of meetings seems to get exponentially bigger; I had 3 today! On the job front, I am still actively submitting applications to schools all over the country for Admissions Counselor positions. My fingers continue to be crossed for the perfect position – and a job offer – to come along!
The next seven weeks will be a whirlwind, but I'm certainly looking forward to it all!