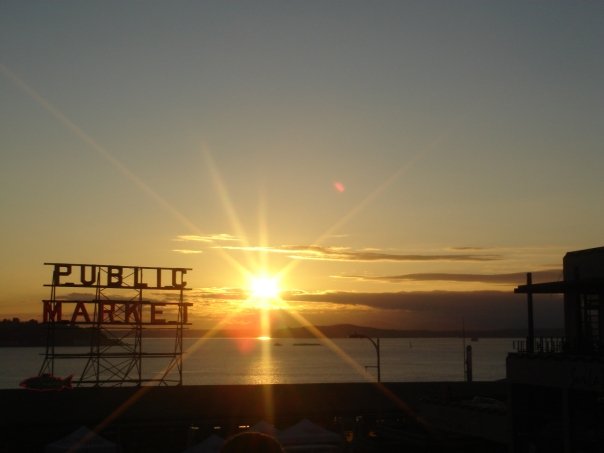 So this weekend is fall break, and though I am having a great time, the days just seem so much shorter on breaks. I feel like I haven't gotten to do near the amount of homework I was planning on doing, nor have I caught up on my sleep. Professors always love to give you extra work on breaks, too, which I can never seem to understand. Some students go home and most others go somewhere fun, so it is not like we have all this extra time to do work. Oh well, I did make 40 bucks today in the tour guide office, and I did made it up to Pike's place and Uwajimaya (an amazing Asian market) in Seattle, so I shouldn't be complaining. I had a great time with one of my suitemates here. We got some of the famous flowers at Pike's place and got some wonderful Ramen at Samurai noodle. I took a few pictures that you can look at of the Seattle area. As you can see, the weather isn't always cloudy and rainy.

Also, there is so much to do in Seattle. If I ever get bored here on campus, there's always the Tacoma area. And, if you ever get bored in Tacoma, there's always the Seattle area. If I get bored in Seattle (which probably won't happen, but just in case), Portland, OR and Vancouver, B.C. are always excellent choices. Eastern Washington is home to the Cascade Mountain range, so skiing in the winter is also a fun thing to do. The popular ski resorts are about 45 minutes away.  Seattle's about 35 minutes from campus, and Portland and Vancouver are both about 2 and a half hours away. I thought I would make a list of my favorite things to do on campus for this blog, and then start exploring some new things in Tacoma, then Seattle, then Vancouver/Portland/Eastern Washington for future posts. 
The Top Ten Things to Do on the Puget Sound Campus:

10. Grab a "Buffalo Chicken (or soy chicken, for vegetarians) 12″ Pizza" at the Cellar and see if you can eat the whole thing. It's so good that you may be able to. 
9. Explore the Science on Display exhibits in Harned Hall, including Foucault's Pendulum, a perfect acoustic circle, and Willie, an adolescent gray whale skeleton. I don't even like studying Science very much, and I think this stuff is cool..
8. Go to a Jazz Band performance in Schneebeck Concert Hall. They take you back to the 1920's…
7. Visit one of your professor's during their office hours. When they don't have other students, most professors really like to talk, not just about your class, but about their research and their fields of study. Most professors have Ph. D.'s so they are all extremely intelligent and they want to help you. 
6. Take a walk around campus in the spring, when the Cherry Blossom trees, dedicated to the former students of Japanese descent that were sent to Internment Camps during WWII, are in bloom. Depressing subject, but the blossoms are beautiful. 
5. Watch a Ubiquitous They show on a Friday night. They are our Improv Comedy group on campus, and are pretty hilarious. 
4. Join RDG, Repertory Dance Group, which is our largest club on campus. Anyone can participate in one of the many hip hop, jazz, tap, lyrical, ballet, and ballroom dances even if you have never danced before. It was a really great way for me to make friends at the beginning of Freshman year. 
3.  Curl up with a cup of coffee (all fair trade and organic) on one of the couches in Diversions Cafe on a rainy day, watch the rain pour down, and be thankful that you're warm and dry. 
2. Though I am biased because I am an Art minor, take a spin through Kittredge Gallery. It's one of my favorite places on campus. The curator for the gallery is the same curator as the Tacoma Art Museum, and they have a variety of student and professional exhibits. 
1.  And, last but not least, enjoy the few sunny, warm days in the Pacific Northwest by picnicking and playing frisbee on Todd field with some friends. It's definitely a stress reliever.