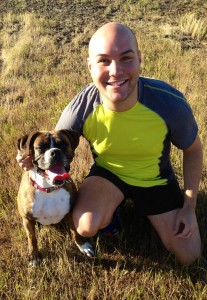 Is this thing on?  Hello, my name is Matt Jarrell, and I am proud to start my second year at the University of Puget Sound as Resident Director for Todd/Phibbs Hall and the campus houses.  As a Resident Director, I oversee the supervision of the Resident Assistant staff, hall programming, community development, and student conduct.  I also live in the hall, and my office is located on the first floor in TP, so it is very easy to meet with me!  Together with the RA staff, I work to provide intentional environments where you are supported and challenged, so that you may discover, value, and enhance yourself and your community.
When/where/in what position did you begin your Residence Life career? My Residence Life journey started as student at Western Washington University for two years, and my professional career began at the University of Puget Sound in 2012 in my current role as Resident Director for Todd/Phibbs Hall and the on-campus houses.
What's your favorite thing about Tacoma? Tacoma is not your average "college town."  My favorite thing about Tacoma is how much there is to explore. We have mountains, the ocean and handfuls of different cultures to experience through food, music and more.
Where's your favorite place to go in Tacoma? Point Defiance Park is my second home.  Go for a run along many of the trails, kayak or pack a picnic when the weather is nice.  Explore Fort Nisqually.  If that isn't enough, they even have go carts.  Yep.  Go carts.
Where's your favorite spot on campus? I'm lucky to live so close to Todd Field.  The grass is luscious and it's a hotspot for students to play sports, enjoy the sun or study outside.  Come early so you can claim a spot of your own.  Maybe bring a Frisbee and laugh loudly so I'll come outside and ask what's so funny?
What is your spirit animal? My spirit animal is a boxer.  (The dog, not the human that punches a lot.)
Where's your hometown? Federal Way, WA.  Home of Wildwaves, the giant waterpark you can see from I-5.  It's just north of campus and is made up of a million strip malls and shopping centers.
What type of relationship do you have with the residents in your area? My goal is to educate students about our policies and procedures, and hold them accountable when necessary.  Living in the hall with students, there is a lot of laughter, ridiculous memories, and personal growth that I'm lucky enough to be part of.
How would you describe yourself in 3 words? "Male Leslie Knope" (Parks and Rec).  If you don't watch that show, you should start.  But here are three adjectives if you aren't familiar with the character: Outgoing. Thoughtful. Optimistic.
What do you like to do in your spare time? In my spare time I like to run so I can eat whatever I want to.  I'm in a pretty serious relationship with my Netflix account.  I'm also a fan of going on adventures and spending time with friends and family.
What's your favorite movie? Bridesmaids.  #lookaway
What's your favorite station/meal in the SUB? Weekend brunch.  All day.  Everyday.
What's your favorite Diversions/Opp drink? Fall Semester:  Green Tea.  Spring Semester: Green tea lemonade.
If you could do anything over again in college, join any different society, take any new class–would you? What would you do? My best advice for college is to be fearless.  I wish I didn't listen to the voice in my head wondering what people would think if I did this or that.  If you're interested in doing something, be brave, find some initiative and do it.  You control your college experience.  Don't check the temperature of the water with your one of your toes, dive in and enjoy before it's over.