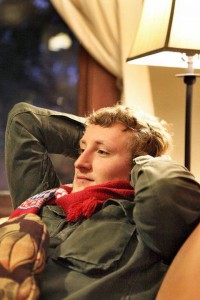 Hey hey!  My name is James Spaan and this is my first year as a Resident Director at Puget Sound!   I am excited to be serving the entire North Quad, which includes: Anderson/Langdon ("AL"), Schiff and Harrington ("Scharrington"), as well as, Smith and University ("Smuni").  As a Resident Director, it is my responsibility to make sure that you, as students, are supported in your academic, social, civic and personal endeavors.  Sounds like a lofty job doesn't it?  Thankfully I have 19 wonderful Resident Assistants and other student leaders that I get to work with and support in making Puget Sound the best place to live and learn!  As a Resident Director I live and work in the halls, so you will probably see me as you head off to class or out to enjoy the wonderful outdoors that the Pacific Northwest has to offer.  Feel free to stop on by my office on first floor AL anytime to ask a question or to just chat!
When/where/in what position did you begin your Residence Life career?   I started in undergrad at Calvin College where I was a Community Partnership Coordinator (community service coordinator for the hall), Resident Assistant, Residence Life Intern, and Front Desk Assistant.  Let's just say, it is not really a surprise that I ended up here at Puget Sound, working as a Resident Director.
What's your favorite thing about Tacoma?  Despite having lived in the Pacific Northwest almost my entire life, I never really had a chance to explore Tacoma.  Now that I am here and have been exploring it, I love that it has big city amenities with a small town feel.  Tacoma has awesome museums, parks, new restaurants, and plenty to explore!
Where's your favorite place to go in Tacoma?  Check back with me in a month and it will probably have changed, but at the moment, anything close to the water.  Point Defiance, the waterfront, narrows bridge.  Just beautiful.
Where's your favorite spot on campus?  Anything to do with Commencement!  The walkway is a great place to relax and enjoy the green spaces of Puget Sound and the new hall is going to have some amazing views of Mt. Rainier.
What is your spirit animal? A penguin!  I swam with them in the Galapagos and I couldn't stop grinning for a year.  They just crack me up and make everyday a great day!
Where's your hometown? Aloha, OR.  Not to be confused with the Hawaiian word for "Hello" my lovely home town is pronounced Ah-LO-wa.  It is the original home of Reo's Ribs, owned by Snoop Dogg's uncle Reo.
What type of relationship do you have with the residents in your area?  My goal is to help guide the community in a direction that is supportive, fun and engaging.  A lot of this work comes through working with my wonderful Resident Assistant team and Residence Hall Association.  With that said, I also am always available (and usually need an excuse to get away from my office) and would love to grab a coffee, play a game or just chat about life.
How would you describe yourself in 3 words? Playful, inquisitive, real
What do you like to do in your spare time?  I am a board game enthusiast and love to play new games!  I also love to cook (usually) and go out to eat.  I try to work it all off by playing soccer, basketball or *insert sport here*.  I am also a diehard Oregon Duck football and basketball fan #WTD, Trail Blazer fanatic  #ripcity, and an expert GM in Fantasy Football.  Translation: I watch/enjoy sports.
What's your favorite movie? The Big Bang Theory.  Ok, I'm cheating… but for real. If forced to choose a MOVIE, A Beautiful Mind.
What's your favorite station/meal in the SUB? TBD.  Check with me at the end of Fall Semester and I will let you know.
What's your favorite Diversions/Opp drink? Traditional, classy and simple: 12oz. Americano, no-room.
If you could do anything over again in college, join any different society, take any new class–would you? What would you do? I honestly would change very little except that I would have traveled more during college including doing a semester abroad.  However, my best advice is to explore and be open-minded.  College is all about finding your passion.  Take classes that sound exciting!  Be in groups that are engaging.  Don't settle.