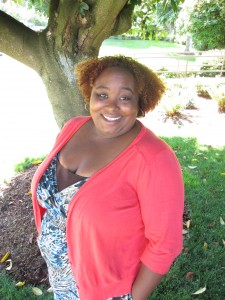 When/where/in what position did you begin your Residence Life career? I was an RA in undergrad and grad school. I had my first professional position as resident director of the illustrious Litchfield hall at Western Connecticut State University.
What's your favorite thing about Tacoma? I love that Tacoma is a nice mix of small town and big city. Tacoma reminds me a bit of New York, it has hidden gems all over the city, check out the taco truck on 6th ave.
Where's your favorite place to go in Tacoma? (restaurant, attraction, or otherwise) I love going to the Point Defiance Zoo. They just opened a sting ray touch tank! J. The view of the sound from the top of the big (really big) hill on 30th is breathtaking.
Where's your favorite spot on campus? I love going to Wyatt hall in the afternoon to watch the sun shine through the Chihuly flowers.
What is your spirit animal? A cow- it's my favorite animal.  I think in a former life I might have been a farmer.
Where's your hometown? Santa Monica, CA.  You can see the whole city from the top of the Ferris wheel on the pier.
What type of relationship do you have with the residents in your area? I like to be a part of the community my staff is working to build.  I try to get to know as many residents (I try to remember names) as possible. I hope my residents and staff see me as enthusiastic, honest, supportive and dedicated.  I have been known to play D & D with residents (my characters tend to lead towards magic as skills).  I always have candy in my office and I don't mind sharing – I will even take requests).
How would you describe yourself in 3 words? Enthusiastic innovative quirky
What do you like to do in your spare time? I like to explore Tacoma and the surrounding cities. I have been recently inspired by cupcake wars and am in the process of teaching myself how to bake (I made a cheesecake it wasn't bad). I was diagnosed with wanderlust at an early age and thoroughly enjoy traveling.
What's your favorite movie? Laura is my all-time favorite movie. I am also quite partial to anything by Alfred Hitchcock and the Highlander series.
What's your favorite station/meal in the SUB? I love soup, and the SUB has phenomenal soup. The roasted red pepper and Gorgonzola is perfect with a sandwich.
What's your favorite Diversions/Opp drink? Large Earl Gray tea with milk and 2 splenda
If you could do anything over again in college, join any different society, take any new class–would you? What would you do? I wish I had studied abroad. I was a Spanish Literature and Sociology double major and I had the opportunity to go to Seville, Spain for a year. But, I was afraid to be that far away from home for so long. Looking back on that choice now, I regret not taking the opportunity to explore a new part of the world. I did end up going to Spain after I graduated from college and I loved it. My mom reminds me of this story whenever I am afraid to make decisions. It makes me remember to take risks and step outside of my comfort zone.