Hello, my name is…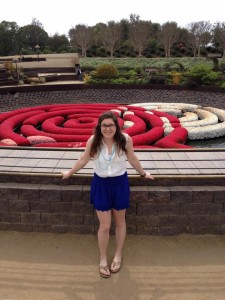 Classic introduction time! I'm Kimberly Webber and am one of 52 Student Staff members in Residence Life this year. If you find yourself to be a new freshman on the 3rd floor of Todd/Phibbs, CONGRATS! You're one lucky duck, because I will be your RA! If you find yourself in T/P on any floor and want to get to know me more or have any interest in leadership, apply for RHA; as the RPA (resident programming advisor) for T/P I work with the RHA on a weekly basis.
I am a student in the Business Leadership Program with an International Emphasis and a German Minor. I am involved with Greek Life and work-study and was on the Cross Country team last year. I was the Programmer for my residence hall, A/L, as a freshman and loved getting to know almost everyone in my building. I come from a beach city just south of Los Angeles, but after experiencing life in the Pacific Northwest, I can hardly imagine living anywhere else. This summer I decided to stay in Tacoma to work with Residence Life and Student Activities in the Student Development House and with Accounting and Budget Services in Jones Hall. Even though it would mean that I couldn't be an RA again next year, I want to study abroad in Freiburg, Germany in the spring of my junior year to refine my German, complete my BLP internship, and embrace the culture I'm studying.
This year I'm fortunate to work with Matt Jarrell (the Pro Staff Resident Director), Gabe Davis (my co-RA on T/P3), and a wonderful staff team of T/P RA's and House RCC's. I am most looking forward to building a cohesive community on the largest residence hall floor after experiencing just that on A/L3 last year. I am also so excited to step back and take on a very different role in RHA, being an advisor instead of a direct participant.