Written by Matt Jarrell, Resident Director
As we anxiously count down the days until Thanksgiving break, some of us are looking forward to a home cooked meal.  Or maxing out our credit cards during black Friday.  Some students are just looking forward to some personal space away from their roommate(s).  It's November and the honeymoon period is officially over.  At first you thought it was cute how your roommate chewed her food.  Now when you hear it, you want to blend her food for her and spoon it to her yourself.  It's funny how that transition happens overnight, and yet, most students want to avoid conflict until it goes away.  Or someone implodes.  Whichever happens first.  Ha.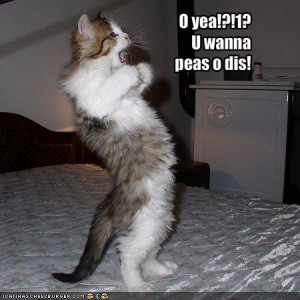 Luckily, living in the Residence Halls at Puget Sound, our goal is for students to engage with diverse identities and perspectives and learn to advocate for their needs.  Conflict is a natural, and exciting, part of the process!  Here are some tips and tricks to conflict management:
Benefits of Conflict
Conflict is a GOOD thing!  Conflict prevents stagnation, stimulates creative problem solving, empowers change and contributes to self-assessment and skill development. Conflict is an opportunity for growth!

The Three Types of Conflict
Conflict can typically be broken into three categories: Resources, Needs or Values.  A conflict over resources is when the heart of the conflict is about something tangible.  EX: Two friends fighting over who gets to ride front seat.  A needs based conflict is when two individuals have different needs.  EX:  One person needs to go to bed while another person needs to study.  Finally, a values based conflict is when people who have different principles collide.  EX: An argument over politics where two people have different values on subjects.
Fight. Flight.  Freeze
When a conflict arises, the most typical responses are to: FIGHT, FLIGHT, or FREEZE.  Some people choose to face conflict head on, while others will run to the mountains to avoid it.  Others will just freeze up or ignore what's going on.  Which is your typical way of reacting to conflict?
What to Consider During Negotiation
When trying to develop a solution or approaching someone about a conflict, there are three general categories to consider: perceptions, emotions and communication.  Try to ask yourself the following questions: What could the other person perceive?  How does this make me feel?  How does this make the other person feel?  What is the best way to communicate with them about this conflict? key to negotiation is basic acceptance of one another.  You will get far quickly when both parties have learned to accept one another.
Acceptance
The key to negotiation is basic acceptance of one another.  You will get far quickly when both parties have learned to accept one another.
When in doubt, you have RAs, RCCs and GHCs to help navigate you through a conflict.  In this day in age, it's easy to hide from conflict behind text messages or social media.  With the help of our ResLife staff, you will grow leaps and bounds in your confidence of conflict management!  I challenge you to take this opportunity to deal with any conflict you may have before you leave for Thanksgiving.  Or if all else fails, bring back a piece of pie to break the ice and have a conversation when you get back.  Pie heals all.