By Jake Nelko

There's one thing that we all experience at the beginning of fall semester: questions about our summer. How was it? What did you do?
It's easy to gloss over the details. For some, it was too short and we wish we could go back to that sunny beach or secluded summer camp. For others, we're excited to be at Puget Sound and ready to get into the swing of the school year.
Rather than let this summer fade away in your rear view, take a few minutes to reminisce. What did you like about your job or internship? How did your vacation change the way you live your day-to-day life? What was something you did that was challenging or out of the ordinary?
The Career and Employment Services (CES) advising team is here to help you put your summer into words. Whether it was a part-time job in your hometown, an internship in a field of interest, or a travel experience, there's always value to articulate in a resume, on LinkedIn, or in the many conversations that start with "How was your summer?"
How have members of the CES advising team spent their summers?
The Trip Abroad | Jake Nelko
My wife and I took our first incredible trip to Europe, stopping in Iceland, the Netherlands, and Croatia. Not only was it an unforgettable trip, it certainly refined my organizational skills. I planned the trip in the most efficient way possible, choosing flights and accommodations based on our desired timetable in each location while trying to book at the lowest cost. I researched where to stay in each town, booking Airbnbs and rental cars—converting money from US dollars to Euros, Icelandic krona, and Croatian kuna.
Navigating this planning process may not launch me into a career at Booking.com, but it developed a part of my professional skill set that is not exercised as frequently as others. These are skills that will be helpful in saving money for my department when traveling for work or to help friends plan for their own trip abroad.
The Part-Time Job | Rebecca Pettitt
My first summer after college, I worked at what we will call 'Large Chain Grocery Store'. After an academic year that included introduction courses to business, observing the operational functions of said Large Chain Grocery Store was fascinating to me. I took it all in. I observed relationships within the store from manager to associate to cashier to deli clerk (that was me).
From an organization that claimed to take pride in the way they treated employees, I quickly observed that in reality, that wasn't always the case. Based on this part-time job, I became more interested in studying business, effective leadership, and learning more about organizational culture.
At the time, I was completely unaware of how this experience might play a large part in who I became as a professional. Now as a Career Advisor, I see a clear connection.
Part of what I love to do in my advising role is help students research and find organizations that are a good fit for them, fine tune their application documents, and articulate their experiences in a way that will help employers recognize how the student would be an asset. You may not continue in a summer job long term, but it can help point you in the direction of what your interests are.
The On-Campus Job | Elizabeth Wormsbecker
My first job on-campus as a student was in Security Services. It was there, in my role as a dispatcher, that I developed the confidence to know I could handle stressful situations, and learned how to build strong professional relationships with the other students and regular staff members in the department.
Even though that position was many years ago, I still think back to the experience I gained there. The problem solving and communication skills I learned in that job have been applicable to every professional role I've held since.
So. How was your summer? And how might your experiences influence your career development? Want to chat about it?
The CES career advising team meets individually with students to discuss all stages of the career process—from your first thoughts about career interests through landing and accepting job offers. Whether you're figuring out what career options exist, finding opportunities to meet alumni and employers, or applying for jobs and internships, the career advising team is here to be your coach and teammate from start to finish.
Make an appointment by calling CES at 253.879.3161 or by visiting us in Howarth 101. Our regular availability for appointments is Monday-Friday, 8:30 a.m.-4:30 p.m., plus a drop-in hour from noon-1 p.m.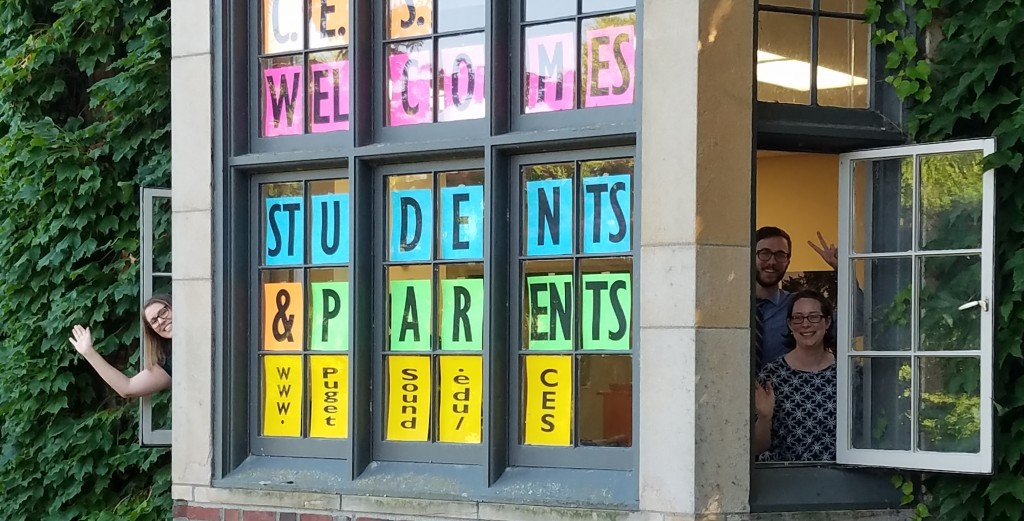 Photo Credits | Headshots of Elizabeth and Rebbecca, Ross Mulhausen; Jake, fountain reflections, advising team, Kris Hay
© 2017 Career and Employment Services, University of Puget Sound
Save
Save
Save
Save
Save
Save
Save
Save
Save
Save