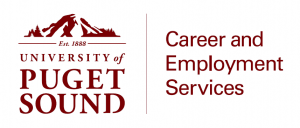 Hey, Loggers! Welcome to CESblogs.
Here you'll find career advice written specifically for you. Unlike random career bloggers you might happen upon, Career and Employment Services (CES) is dedicated to the success of Puget Sound students — your success.
CESblogs spotlights career development from a student's point of view, and provides you with tips for making the most of your time here at Puget Sound.
Whether you're just beginning to reflect on your career interests, or you're preparing to conduct a job or internship search, peruse CESblogs and use CES resources. We're here for you!
**We haven't been creating a ton of new blog posts lately, but there's still good info to be found here in the archives. For the MOST current content, look for us on social media and in your inbox with emails via Handshake, like the This Week with CES newsletters.
Save
Save
Save
Save