Do you love research? Are you intrigued by Archives and Special Collections? Do you enjoy reading, developing programs, and helping people? Consider a career in libraries or other information agencies, including museums, government offices, and corporations!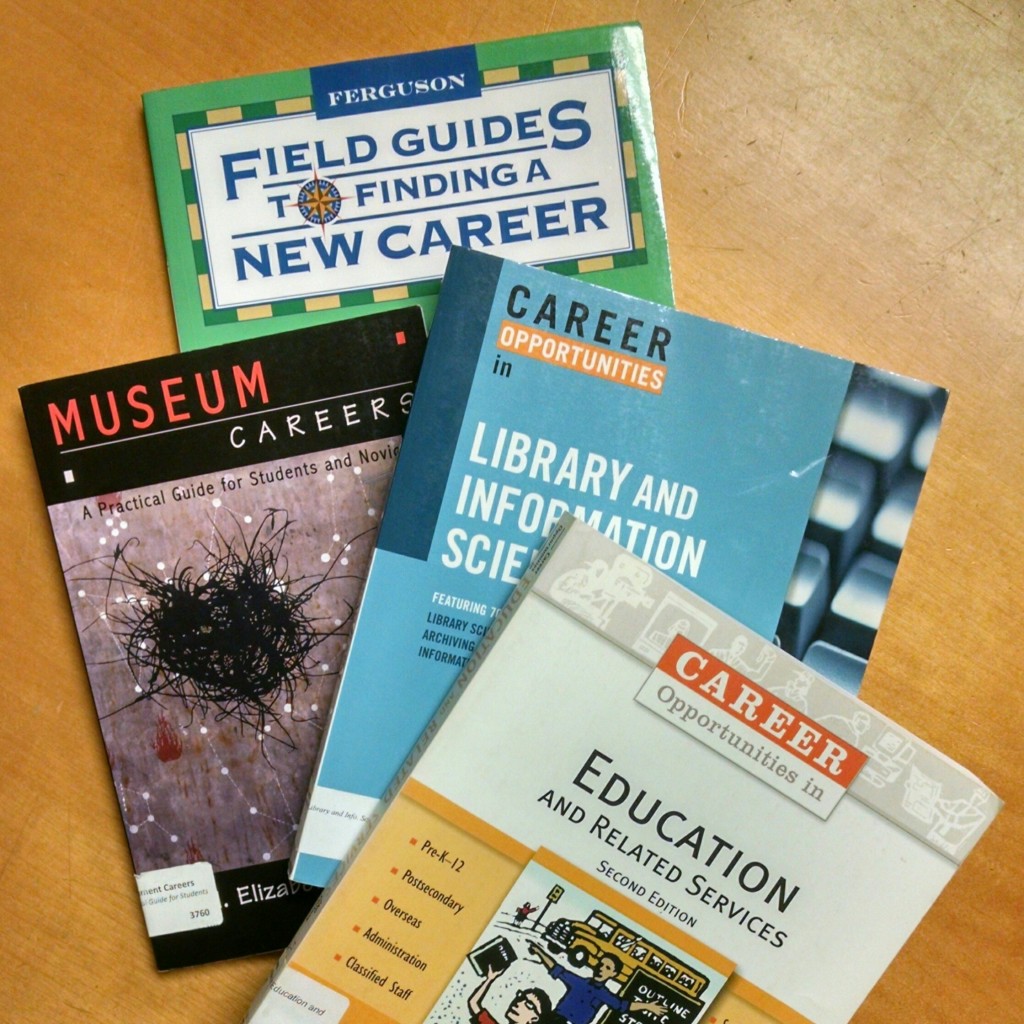 Check out these resources about Library, Information management, and Archive careers:
In Print
Borrow books from the Career and Employment Services (CES) Career Resource Library in Howarth 101:

Field Guides to Finding a New Career: Education by Amanda Kirk — Chapter 2 is dedicated to the career path of a librarian, providing a layout of necessary characteristics and skills, as well as information on how to get into the job field.
Museum Careers by Elizabeth Schlatter outlines the nature of the profession as a whole, the rewards and challenges of museum work, types of museums, and jobs within museums, including salary ranges.
Career Opportunities in Library and Information Science by Allan Taylor details over 85 jobs—summarizing each job's notable features, how to get into the career path, and information about education and training.
Career Opportunities in Education and Related Services by Susan Echaore-McDavid — Under the "Librarians" section, you'll find detailed quick-reference Career Profiles for each job summarizing duties, salary range, employment prospects, and more.
On-line
Start by perusing the Educations and Careers section of the American Library Association web site. Here you'll find a plethora of information about libraries and librarians, including: types of libraries, jobs in libraries, characteristics librarians share, educational requirements, earnings and outlook of the profession, and more!
Search LinkedIn and the Alumni Sharing Knowledge (ASK) Network group for Puget Sound alumni who've pursued careers in the field. Here are a few of the many ASK volunteers who are willing to speak with Logger students:
Project Archivist for the archives for Women in Medicine
Library Media Specialist at Washougal High School
Assessment & Research Analyst at UCLA
Youth Services Librarian at Contra Cost County Library System
Librarian at the Boeing Library
People interested in Library, Information Management, and Archive careers have also found work at Amazon, Starbucks, and Microsoft with job titles such as Category Manager, Training and Development, and Competitive Intelligence Researcher.
Log in to pugetsound.edu/CESresources:
Take an assessment through Career Cruising to find out about potential careers that might be a match for your research-driven, program-developing, book-loving self!
Check out the Library & Information Science section of Spotlight on Careers for specific tips on interviewing and resumes, along with profiles on librarians, information managers, and archivists.
Read CES' interview with Jane Carlin, Collins Library Director, for additional insight and resources.
In Person
Collins Librarians are actively engaged in the profession and are a great source of information and support—they have advised and mentored many students about education for and careers in Librarianship. Many of them have held library jobs outside of Puget Sound, so can provide perspectives about other library settings.
The Collins Library staff hold a career information night each spring. Attend for an overview of life as a librarian, and take the opportunity to introduce yourself!
Meet with CES career advisors for help with your career exploration, job or internship search, interview prep, resumes, cover letters, and strategies for your future career! CES is open Monday-Friday, 8:30-4:30. Call for an appointment, or use our daily Drop-in Advising hours for a 5-10 minute mini session.
© 2016 Career and Employment Services, University of Puget Sound
Photo: Kris Hay
Save
Save