Graduation isn't as far away as it seems. And if there was a single CES mantra that could help students be successful in their career development, it might be "Start early."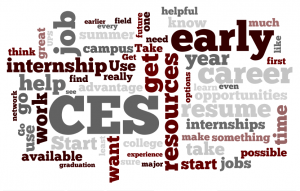 Start gaining experiences that will help you discover your skills and interests…
Start reflecting on what you've learned about work environments and career fields…
Start taking advantage of resources that will help you along the way…
If this is your first year at Puget Sound, don't delay. Get started. You'll see the payoff in a less stressful senior year.
And if this is your final year, your process will be more condensed—it may also be more hectic—but don't slip into denial and delay further. Starting today will still be much easier than starting next May.
But don't just take our word for it.
When the Puget Sound Class of 2011 was on the verge of graduating, we asked them to share their advice with incoming students:

"Start trying careers out as early as possible through internships, part-time jobs, etc. Even if what you do doesn't turn out to be something you are passionate about, you'll still gain valuable skills, knowledge, and connections from the experience."
"It is surprising how fast senior year arrives and how you can feel totally unprepared for interviews and job searching without the help and assistance of CES. Go early, go often."
"Meet with CES advisors early on to learn which services are available, look through the CES library to explore career options, and have a polished resume ready to go even if you don't think you will need it in the near future."
"Utilize the resources that are offered by CES. Be prepared that you will have to do a great deal of searching and networking by yourself. They can guide you, but they don't do it for you. So start early. (Start NOW.)"
"Start early. The CES resources are excellent and given four years to build contacts/references, and job/internship experience you will come out delectably employable. I wish I had started sooner."
It doesn't have to be a huge leap…baby steps are completely acceptable. Here are 3 things you can do this week to get started:
Now get started!
© 2011 Career and Employment Services, University of Puget Sound
Photo: Kris Hay