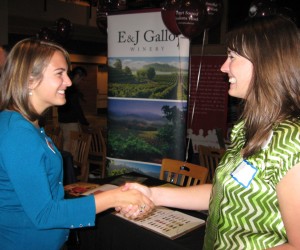 There are many ways to search for positions. Career fairs are one highly visible way… but they are, by no means, the only way. The old cliché is true when it comes to job searching: Don't put all your eggs into one basket.
If you came out to the Career Fair and connected with employers, here are a few things to do that will help you stand out from other candidates:
• Send a thank you note: you'll look good and it will help you reiterate your interest in the position.
• Follow-up: If you said you'd send your resume, send it.
• Continue to research the organization in case you get called for an interview.

If you missed the Career Fair and want to connect with some of the employers:
• Send a letter and resume stating that you were unable to attend the Career Fair and are interested in their position, etc.
• Check out the ASK Network. See if Puget Sound alumni work for the organization and contact them as well.
Didn't see the employer of your dreams at the Career Fair?
That's not a big surprise. Employers who participate in career fairs tend to be larger, local employers (because they can spare a staff member to attend the event). Here are some tips to connect with employers who didn't attend the Career Fair:
• Check out the ASK Network. See if Puget Sound alumni work for the organization and contact them.
• Use social media. Many employers have Facebook fan pages, Twitter about job opportunities, and manage LinkedIn pages.
• Visit the websites of employers you're interested in. Most have a "careers" or "employment" section on their homepage. Sometimes positions are listed on the website and nowhere else.
• See if there are professional associations related to your career field of interest (we have a directory in CES that can help you find them). Many have career information for students, and post jobs/internships.
• Looking for a specific geographic region? Search the ASK Network by state and try local business journals or Chambers of Commerce for leads.
• Network! Network! Network! Who do you know who might know somebody who knows somebody? Tell everyone you know what you're looking for. Be prepared to explain who you are and what you want to do at any moment. Wondering how to be prepared? Check out the "Connect & Impress in 15 Seconds or Less" blog post.
Your job search is an on-going work-in-progress. Take active steps to develop the relationships you made with recruiters at the Career Fair and beyond, identify other methods for connecting with opportunities, and remember that CES can help you at any step along the way.
© 2009 Career and Employment Services, University of Puget Sound
Photo: Kris Hay
Save
Save