1907: Revised Charter of the City of Tacoma, Washington
Author/Editor: L. W. Roys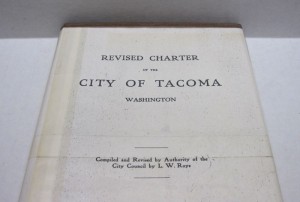 The original charter of the City of Tacoma was framed and submitted in 1890.  This revision was compiled by the City Council in 1907.  It's a fascinating political document about the early days of our fair city.  A time when the city was divided up into 'Wards,' and the focus of the charter was primarily on land development and street improvement.  It also gives an early glimpse into city government, spelling out the roles of the Mayor and the City Council.
And in case you're interested, here's the current Tacoma City Charter:
Effective June 1, 1953; Amended November 2, 2004.