1996: Slam!
Author/Editor: Walter Dean Myers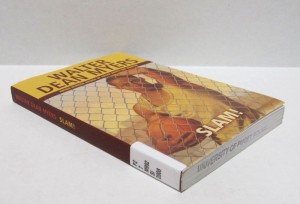 Slam! is a classic coming-of-age story about a boy nicknamed "Slam" from Harlem who is great at sports, but not so great at school. When he finds out that he has to get his grades up or else risk not being able to play basketball, he challenges himself to do better, even though it means breaking away from his comfort zone and risking friendships. The book culminates in a basketball game between Slam's team and his former friend's team, which can be seen as Slam's triumph over his past.
This book contains some intense basketball games that are so well depicted that even someone who knows nothing about basketball can follow the action! Winner of several accolades including the Coretta Scott King Award and an ALA Best Book for Young Adults.