The first of November has came and gone, where has the time gone?! We have a mere 5 weeks of awesomeness left in this semester! And this change couldn't be better acknowledged by the insane weather we've been having in Tacoma this week! On Sunday my weather forecast, which is highly inaccurate most of the time but isn't most weather apps?, predicted SNOW on Thursday! I was jumping in my boots! Until I realized the many times last year my weather app predicted snow for naught, and my excitement tempered. I mean, c'mon what's the likeliness we were actually going to get snow this early in the year? Highly unlikely as it turns out, no snow this past Thursday sadly.
What makes the prediction of snow all the more ironic is the rest of the week was predicted to be completely sunny. No clouds, clear blue skies, sun rays beaming down upon us and cool temperatures of 30-40 degrees! How did I to manage to enjoy the warmth of the sun if the brisk cold winds and temperature was an average of 34 degrees all day you might ask?! Clue: I wasn't. I had to break out my down jacket and layer up, no slippers anymore unless I wanted my toes to freeze up.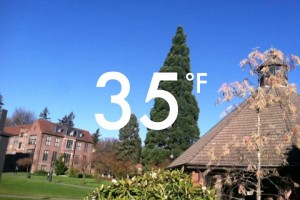 But the most surprising thing about this drop in weather is the wind! These Pacific Northwest winds are vicious! On Tuesday night the winds ravaged Tacoma, knocking the power out that the emergency generators came on (twice!), blowing the shingles off the nearby hospital and dropping branches bigger than myself on the ground. I have the rosy red windburn cheeks to prove its ferocity! But I'm loving this weather change, the cool temperatures (polar vortex again?), the possibility of snow this winter, the warmth of the November sun, clear views of Mount Rainier and breaking out my boots and sweater layers more often. I don't know if this unusual weather can be classified as fall or winter precisely but it's Tacoma weather and I love it all the same.