In which Daniel bids farewell to the United States of America, as well as his penultimate year of college.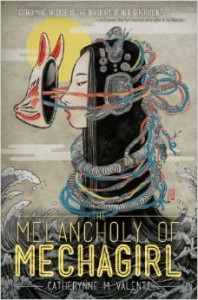 To my dear reader,
The Melancholy of Mechagirl is a collection of short stories and poems by Cathrynne M. Valente, all written during or inspired by her time spent as a Navy wife in Japan. It was the last book I read while in Tacoma, Washington, and was one of the most enjoyable pieces of fiction I've read in several months. The intricacies of its cultural reference, alongside the wide array of emotions and topics the stories traverse, paint a colorful and fascinating picture of her conception of the nation. In the book's afterword, however, the author discussed her trepidation in writing about a culture which was not hers, and to which she held so much respect:
"To write of a country, a culture, a world that is not your own is an act, forever and always balanced between love and hegemony. I have tried to err on the side of love."
Upon reading this, I was suddenly and forcibly reminded of my freshman year writing seminar. It was a class focused on travel writing the act of "othering" – viewing and altering perceptions of other cultures or groups as alien – and much of the class was spent examining writings Europeans and Americans had done on other places. Over and over again in those writings, Europeans and Americans colored their perspective with their own enculturated values and ideals, condemning different societies, exoticizing foreign women and displaying contempt for other cultures.
Ms. Valente has done, I believe, a marvelous job of treating the Japanese culture with respect. Her use of Japanese folklore and religious ideologies is insightful and meaningful, while still remaining accessible to English-speaking audiences. But this book, and that line in the afterward specifically, has remained with me because in two days, I will be departing to study abroad in Italy.
How much of study abroad is comprised of othering, I wonder? Are students from America usually seen as a form of education hegemony? What will never been mine to hold, no matter how much time I spend there? I will be there to study the intersection of Italian music and literature. What will I miss when I inevitably look at this intersection through American eyes?
I once took a composition class outside of Puget Sound with a teacher that was not a lover of world music. "Many modern composers," he said, "have taken to using 'ethnic' music to spice up their compositions… silly, really." I was initially shocked and upset that he'd said this. By saying that other culture's music were "ethnic" he was implying that the compositions of European and American composers were effectively "real" music, and that the music of all other cultures was a tool to be used, or otherwise negligible. At the same time, however, he had a point: many composers today do use other culture's music as a spice for their own compositions.
I suppose that the difference between doing this with love and doing this with hegemony is a question of attitude. Writing music inspired by or based on another culture's music – much like writing inspired by or based on another culture's writing – can be done with respect and admiration for that culture, or it can be done with disdain and disregard for that other culture. I suppose that the difference is that love is creating something on that other culture on its terms, and hegemony is creating something on your culture's terms. As I study music and literature in Italy this summer, I shall try, as Ms. Valente, to err on the side of the former.
With all due respect,
Daniel Wolfert